Pink Lemonade (Paperback)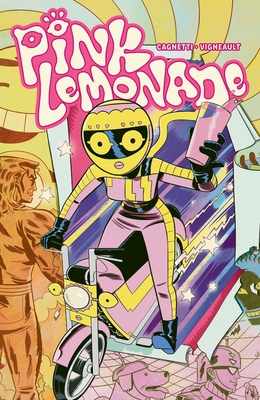 $24.99

Coming Soon - Available for Pre-Order Now
Description
---
In the tradition of Mike Allred's MADMAN and Grant Morrison's ZENITH comes the next great pop-saturated comics sensation from rising star Nick Cagnetti.

Mysterious past! Colorful costume! Altruistic outlook! Zippy motorcycle! And one very overactive imagination! Meet PINK LEMONADE—the new hero on the scene! She dreams of doing big things, but ultimately, she'll settle for just helping where she can. But when Pink Lemonade accidentally crashes into the set of the next Rex Radical blockbuster, she'll take an unexpected leap into the spotlight...and will soon find herself confronted by a series of increasingly threatening doppelgängers, extraterrestrial fanboys, and nefarious corporate machinations.

Collecting Pink Lemonade #1-6 in one complete volume.
About the Author
---
Nick Cagnetti is a cartoonist based in Arizona and a graduate of Arizona State University with experience doing storyboards and commercial art but he's been drawing forever thanks to a life-long love for comic books. He's been making his own regularly since 2012 with books like Infinite Wonders and The Spirit of The Shadows but he's best known for his work on Pink Lemonade.

FRANÇOIS VIGNEAULT is a freelance illustrator, designer, and cartoonist (not necessarily in that order). In addition to Titan, his work includes 13e Avenue (Éditions de la Pastèque), and his comics and illustrations have been appeared in publications such as Planches, Papercutter, Kayak, and Study Group Magazine. His work has been nominated for numerous awards, including the Joe Shuster Award, Prix des Libraires, and the Prix des Collèges. Born in the United States to immigrant parents, he has lived and worked in Montréal, Québec since 2015.