Bridge Makers: Becoming a Citizen Futurist (Paperback)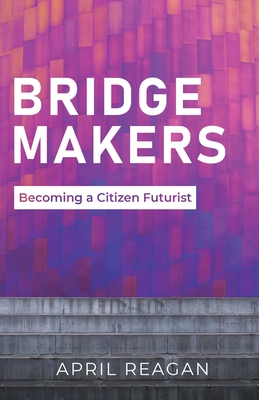 $17.99

Usually Ships in 1-5 Days
Description
---
"Our moral responsibility is not to stop the future, but to shape it... to channel our destiny in humane directions and to ease the trauma of transition." ― Alvin Toffler
Bridge Makers: Becoming a Citizen Futurist answers an echoing call for a beginner's guide to foresight. Drawing from her decades of experience in high-tech, April Reagan presents an array of historical information, tools and research to guide readers through an educational journey.
Bridge Makers is designed as an easy read that aims to spark an interest in every citizen to find agency in their anticipation of the future. This is done by painting the past, present, and future with optimism, while still encouraging all to maintain a sense of urgency to act, in order to avoid dystopian futures. If you have ever asked yourself:
How will science and technology change the way we live?
How can I influence the future of science and technology in society?
How do I reclaim agency in the future?
Bridge Makers: Becoming a Citizen Futurist should be added to your required reading list.