Yellow Butterfly: A Story from Ukraine (Hardcover)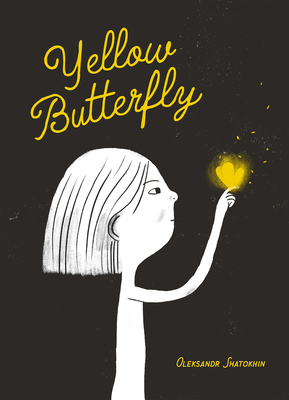 Description
---
A Kirkus Reviews Best Picture Book of the Year
★ "Provocative, powerful, breathtakingly beautiful." -STARRED REVIEW, Kirkus Reviews
★ "Both timely and timeless, evoking war and its aftermath without losing sight of hope."-STARRED REVIEW, Booklist
★ "Stark images in black and white lead this sympathetic wordless picture book about a girl who's enduring the war in Ukraine."-STARRED REVIEW, Foreword Review"Breathtaking" -Ruta Sepetys, author of Between Shades of Gray
"A beautiful and heartbreaking tribute to the resiliency of people in wartime;"- School Library Journal
"A moving portrait."-New York TimesA wordless picture book portrayal of war seen through the eyes of a young girl who finds hope in the symbolism of yellow butterflies against the background of a pure blue sky. Using the colors of his national flag, Oleksandr Shatokhin has created a deeply emotional response to the conflict in Ukraine and provided a narrative full of powerful visual metaphors for readers to consider as they travel from the devastating effects of war to a place of hope for peace and the future.
A portion of the sale of this book will be donated to the Universal Reading Foundation who supply children's books to Ukraine.
Back matter includes notes on sharing a wordless picture book and how to talk to children about war.
About the Author
---
Oleksandr Shatokhin is an artist and children's book illustrator who lives and works in Ukraine. On the first day of the Russian invasion of Ukarine, Oleksandr and his family left their home in Sumy, close to the Russian border, for Poltava. On the way there, they were held up in occupied Trostianka (Sumy region), but finally managed to travel through the green corridor to reach their friends in Poltava. Oleksandr's wife and child continued on to the safety of Poland. The author stayed in Ukraine. After two months apart the family was reunited in Western Ukraine and are living together in the city of Lviv, close to the Polish border.