Valentine's Day Activity Book for Kids: Mazes, Coloring and Puzzles for Kids 4 - 8 (Paperback)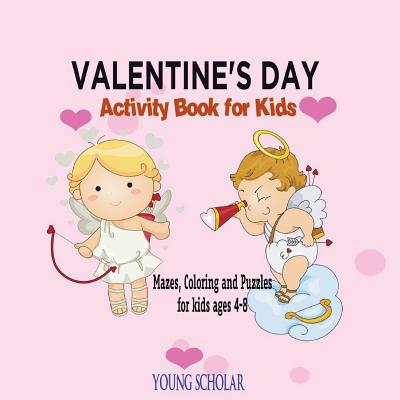 $12.07

Usually Ships in 1-5 Days
Description
---
Valentine's Day Activity Book for Kids is the ultimate activity for the 14th day in February that symbolizes friendship, love, hugs and sharing. Engage the kids this Valentine's day with themed mazes, Coloring pages, puzzles and lots more
Practice makes perfect; and children are not exempt from that rule. Children gain confidence in themselves when they pick up the pencil and practice. Understanding that we do not live in isolation but with other people who we also need to love and respect is one of the fundamentals of Valentine's day. This activity book provides an opportunity for young ones to have fun, learn and hone their skills. The pages eagerly await the strokes of your child's pencil to solve puzzles, find missing words and color images.
Young Scholars work on their fine motor skills, cognitive skills and dexterity as they trace, color, solve puzzles, find missing alphabets etc. Not only are they learning, but they are involved in activities that are fun and engaging, thereby providing parents or guardians time to catch up on tasks.
There is an eager to learn student and artist in every child, don't let it fade. Nourish it with this Valentine's Day Activity Book for Kids. Discover inner peace and the satisfaction of laying the foundation for future achievement. Be proactive, grab a copy today. Makes an excellent gift for family and friends on birthdays, special occasions.