The Big 100: The New World of Super-Aging (Hardcover)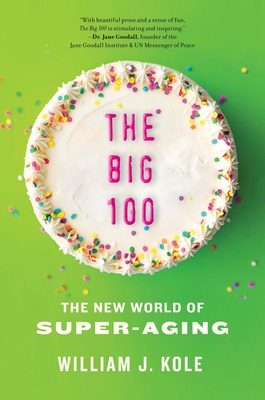 $28.99

Usually Ships in 1-5 Days
Description
---
"Stimulating and inspiring. . . ." --Dr. Jane Goodall, founder of the Jane Goodall Institute & UN Messenger of PeaceJournalist William J. Kole, reluctant but newly minted member of AARP, explores the looming era of super-aging--incredibly longer lifespans overall, and eight times more centenarians by the year 2050--through the lens of past, present, and future life at ages 50, 65, 80, and on to 100-plus. What happens to all of us when 65 is merely a life half-lived?By 2050, the world's centenarian population--those aged 100 or more--will increase eightfold. Half of today's 5-year-olds can expect to reach the same heights. It's going to upend everything we thought we knew about health care, personal finance, retirement, politics, and more. Whether we're 18 or 81, this tectonic demographic shift will affect us all. The Big 100 confronts readers with both the brightness and potential bleakness of a fate few of us thought possible. Journalist William Kole guides us on this journey into our future, an optimistic but sometimes fraught exploration of super-aging as the grandson of a centenarian.
Along the way, there are expert sources, like Dr. Jane Goodall, longevity expert Dr. Thomas Perls, Senator Elizabeth Warren, and even 101-year-old influencer and fashionista Iris Apfel; along with surprises, including the truth about those so-called "Blue Zones" everyone thinks are centenarian factories. (Spoiler alert: They're not.) And there's the troubling truth that those reaching extreme longevity tend to be overwhelmingly white, a product of what experts deem the "weathering theory" the idea that the health of African Americans begins to deteriorate in early adulthood as a physical consequence of socio-economic disadvantages.
How long can we live? How long should we live? And what happens when 65 is merely a life half-lived? The Big 100 explores the most pressing questions of our super-aging future, and offers a glimpse of a reality that awaits us, our children, and our grandchildren.