American Utopia (Hardcover)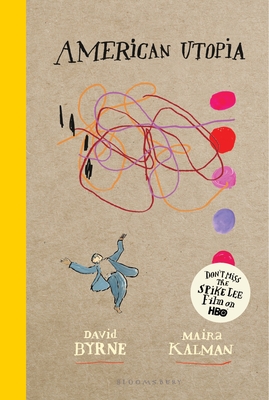 Description
---
From former Talking Heads frontman and multimedia visionary David Byrne and revered bestselling author, illustrator, and artist Maira Kalman--an inspiring celebration in words and art of the connections between us all.

Don't miss the Spike Lee film of the Broadway hit American Utopia--on HBO.
A Beat Most Anticipated Graphic Novel of Fall 2020

A joyful collaboration between old friends David Byrne and Maira Kalman, American Utopia offers readers an antidote to cynicism, bursting with pathos, humanism, and hope--featuring his words and lyrics brought to life with more than 150 of her colorful paintings.

The text is drawn from David Byrne's American Utopia, which has become a hit Broadway show and is now a film from Spike Lee on HBO. The four-color artwork, by Maira Kalman, which she created for the Broadway show's curtain, is composed of small moments, expressions, gestures, and interactions that together offer a portrait of daily life and coexistence.

With their creative talents combined, American Utopia is a salvo for kindness and a call for jubilation, a reminder to sing, dance, and waste not a moment. Beautifully designed and edited by Alex Kalman, American Utopia is a balm for the soul from two of the world's most extraordinary artists.
About the Author
---
David Byrne was born in Scotland in 1952 and is now an artist, writer, and musician who since 1974 has lived in New York City. He has a daughter and a grandson.
Maira Kalman was born in Tel Aviv in 1949 and is now an artist, writer, and designer who since 1954 has lived in New York City. She has a daughter, a son, and two grandchildren.
Praise For…
---
"Uplifting . . . an argument for the reincarnation of hope in the American project." - NPR.org

"A comforting work of art in troubled times." —Kirkus Reviews

"Like the Dadaists, Byrne often uses absurdity and humor to make sense of a chaotic world. With its themes of freedom, uncertainty, and inclusivity, American Utopia speaks to the present moment as Byrne calls for seeking common ground despite the world's miseries." —Booklist

"This selection of Byrne's lyrics accompanied by Kalman's illustrations captures the spirit of the show. As readers page through the book and savor the words, the pictures fairly leap off the page. Byrne's afterword sums it up best: "Here is the hope and joy that I believe emanates from the show itself in something you can hold in your hands." VERDICT Whether or not readers are fans of Byrne, they'll enjoy this colorful and playful presentation." —Library Journal

"In this frothy amuse-bouche of a book, snippets of Talking Heads frontman Byrne's lyrics jump and skip across pages, illustrated with watercolor sunniness by Kalman." —Publishers Weekly

"Spare lines from Byrne's lyrics, spare gestural utterances from the body language of the choreography, spare micro-expressions on the faces of the cast come abloom as painted vignettes, tender and expressive, dancing with their own aliveness. What emerges is not a recreation of the musical world in book form but a luminous satellite of that world, intimate yet separate, removed by a degree of artistic abstraction yet reflecting the radiance of the same guiding star." - BrainPickings

"Paging through this book when your mood falters is sure to help cheer you up and make your day a little brighter." - Bookloons

"Has there been a more energizing creation in 2020 than David Byrne's American Utopia? Spike Lee's joyous film based on Byrne's Broadway smash is both soothing and appropriately conflicted: an ideal concoction for these troubled times. The same is true of this hardcover collaboration between Byrne and artist Maira Kalman. It features the prolific musician's lyrics alongside her vibrant, life-affirming illustrations. It is no exaggeration to say that each page is a delight." - The Film Stage