The Big Book of Hacks for Minecrafters: The Biggest Unofficial Guide to Tips and Tricks That Other Guides Won't Teach You (Paperback)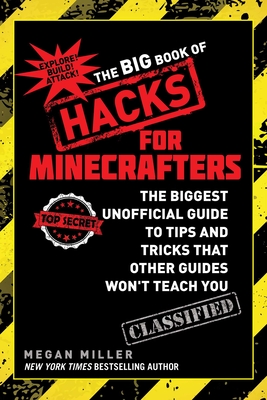 $24.99
Email or call for price
Description
---
Boys and girls will learn how to build awesome structures, defense strategies for fending off hostile mobs, and great tips on mining, farming, and more! Become a Minecraft master!
With hundreds of millions of registered Minecraft accounts, Minecraft is a gaming phenomenon that children (and parents and teachers) love. Here is a big, full-color unofficial "hacker's" super-guide dedicated to fighting mobs, building , and much more
know which animals to domesticate and how to do it
properly use potions and enchantments
build and customize a survival home
select appropriate weaponry
and much more!
Packed with expert tips, cheats, and hacks on building, fighting, farming, enchanting, mining, and more,
The Big Book of Hacks for Minecrafters
shows exactly how the experts bring their amazing structures to life (like a Japanese pagoda or underwater dome) and fight every single type of mob (from Blazes to Zombie Pigmen and everything in between). Illustrated guides will let every kid follow along with each tip step-by-step to master the Minecrafting world.
About the Author
---
Megan Miller was born in Talara, Peru, and from there grew up in Miami, Barcelona, and the suburbs of London, England. She's also lived in Houston, Austin, NYC, the Hudson Valley, Kentucky, and finally New Mexico. She plays Minecraft daily, and has also spent many hours in the past with arcade game Centipede, the first Castle Wolfenstein shooters, the first color Mac space shooter Crystal Quest, The Sims, Sim City (1-3), City Skylines, Civilization, and more. You can contact her through her website, meganfmiller.com - (see you there!)