The Paris Librarian: A Hugo Marston Novel (Paperback)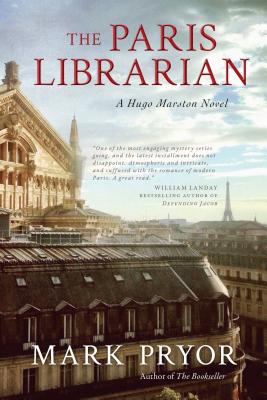 $19.95

Usually Ships in 1-5 Days
Other Books in Series
This is book number 6 in the Hugo Marston series.
Description
---
Hugo Marston's friend Paul Rogers dies unexpectedly in a locked room at the American Library in Paris. The police conclude that Rogers died of natural causes, but Hugo is certain mischief is afoot. As he pokes around the library, Hugo discovers that rumors are swirling around some recently donated letters from American actress Isabelle Severin. The reason: they may indicate that the actress had aided the Resistance in frequent trips to France toward the end of World War II. Even more dramatic is the legend that the Severin collection also contains a dagger, one she used to kill an SS officer in 1944. Hugo delves deeper into the stacks at the American library and finally realizes that the history of this case isn't what anyone suspected. But to prove he's right, Hugo must return to the scene of a decades-old crime.
About the Author
---
Mark Pryor is the author of the Hugo Marston novels The Bookseller, The Crypt Thief, The Blood Promise, The Button Man, and The Reluctant Matador, as well as the novels Hollow Man and Dominic. He has also published the true-crime book As She Lay Sleeping. A native of Hertfordshire, England, he is an assistant district attorney in Austin, Texas, where he lives with his wife and three children.
Praise For…
---
"Mark Pryor's Hugo Marston series is one of the most engaging mystery series going, and the latest installment does not disappoint. Atmospheric and intricate, and suffused with the romance of modern Paris. A great read."

—WILLIAM LANDAY, bestselling author of Defending Jacob

"The sixth Hugo Marston novel has it all: a Paris setting, a locked-room death that may or may not be murder, a beautiful actress who was a spy for the French resistance during the Second World War and a dead Nazi…Marston follows the clues in a finely structured plot that's one of Pryor's best books yet."

—Toronto Globe & Mail

"To read the book is to smell and taste the food, feel the air of [Paris], and hear the language… Spending a couple of hours in the company of Hugo Marston is always enjoyable, and reading The Paris Librarian was no exception."

—Reviewing The Evidence

"Well-written and compelling, with twists at every turn to keep the reader guessing… Now I have to go back to the beginning and start the series with The Bookseller!"

—The Book Basics

"It has something for everyone—booze, guns, action, beautiful women, history, humor, danger, fantastic French food, and BOOKS! Pryor's series is one of my favorites."

—BookPeople/MysteryPeople
 
"The Paris Librarian is the latest entry in one of my favorite series in crime fiction. Mark Pryor keeps getting better and better—the great sense of place, a bibliophile mystery, and a well-crafted novel of suspense all add up to a fantastic read."

—LINDA FAIRSTEIN, author of Killer Look, an Alexandra Cooper novel

"My favorite bibliophile returns in this stylish and entertaining read. Hugo Marston has a nose for first editions, and trouble. In this deftly plotted mystery, the Paris cafés are beguiling, the clues are subtle and ingenious, and the denouement is both thrilling and unexpected. The author is in impeccable form."

—CAROL K. CARR, author of the Madam of Espionage Mysteries

"Mark Pryor is at the top of his game with The Paris Librarian, the latest installment of the Hugo Marston series. While the characters remain warm and familiar, the suspense will keep you guessing well into the wee hours of the morning. It's always a treat to step back into Hugo's world. Pryor has cemented himself as a mystery writer not to be missed."

—JENNIFER HILLIER, author of Creep and Wonderland

"A book lover's mystery and a mystery lover's book. Is it possible to make Paris a more intriguing city? Pryor has done it, yet again. Rare books, not-so-rare death, and a café au lait. So real you can smell the baguettes. Pryor's books are like an elegant café you can't wait to visit again . . . with friends. I'd follow Hugo Marston down any rue sombre."

—STEVEN SIDOR, author of Pitch Dark