Himalaya: Exploring the Roof of the World (Hardcover)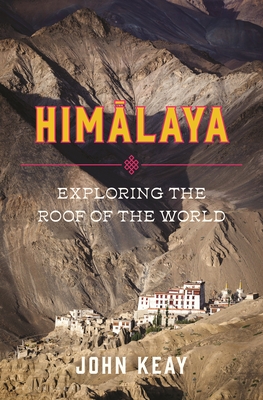 $30.00
Email or call for price
Description
---
"Excellent ... packed with information and interesting anecdotes."--The Washington Post

A groundbreaking new look at Himalaya and how climate change is re-casting one of the world's most unique geophysical, historical, environmental, and social regions.

More rugged and elevated than any other zone on earth, Himalaya embraces all of Tibet, plus six of the world's eight major mountain ranges and nearly all its highest peaks. It contains around 50,000 glaciers and the most extensive permafrost outside the polar region. 35% of the global population depends on Himalaya's freshwater for crop-irrigation, protein, and, increasingly, hydro-power. Over an area nearly as big as Europe, the population is scattered, often nomadic and always sparse. Many languages are spoken, some are written, and few are related. Religious allegiances are equally diverse. The region is also politically fragmented, its borders belonging to multiple nations with no unity in how to address the risks posed by Himalaya's environment, including a volatile, near-tropical latitude in which temperatures climb from sub-zero at night to 80°F by day.

Himalaya has drawn an illustrious succession of admirers, from explorers, surveyors, and sportsmen, to botanists and zoologists, ethnologists and geologists, missionaries and mountaineers. It now sits seismically unstable, as tectonic plates continue to shift and the region remains gridlocked in a global debate surrounding climate change. Himalaya is historian John Keay's striking case for this spectacular but endangered corner of the planet as one if its most essential wonders. Without an other-worldly ethos and respect for its confounding, utterly fascinating features, John argues, Himalaya will soon cease to exist.
About the Author
---
John Keay has been writing about Himalaya and traveling there since the 1960s. He wrote the two-volume Explorers of the Western Himalayas and wrote and presented a major BBC R3 documentary series on the Himalayan kingdom; other works include India: A History and China: A History. He has contributed to about a dozen anthologies and multi-authored works on the region and written the text for several photographic studies. He reviews for the Literary Review and the TLS. The Royal Society for Asian Affairs awarded him its Sykes medal for his "literary contribution to Asian studies" in 2009. He has been a Royal Literary Fund fellow since 2010. Himalaya, his twenty-second book, will be the summation of a lifetime's study. He lives in Scotland.
Praise For…
---
"Excellent … both Himalaya and Erika Fatland's High are ideal books for armchair travelers, packed with information and entertaining anecdotes. You will learn a lot from them—though not, of course, the way to reach fabled Tralla La. That must remain a secret." - Michael Dirda, The Washington Post

"A fascinating assemblage of anecdotes, crisscrossing deep gorges and mountain passes, visiting exotic retreats with unfamiliar names, and leaping back and forth across the centuries, true to the unique mix of nature and culture that is Himalaya…Keay's narrative, compellingly complex as the Himalaya itself, touches on all these subjects, offering, as if from highest ground, exhilarating vistas in every direction." - Natural History Magazine

"A panoramic overview of the history, archaeology, geology, politics, religions, and cultures of the storied mountain range, highlighting the individuals who have aspired to reach its peaks, visited its sacred sites, investigated its flora and fauna, and created its vivid mythology … A wide-ranging adventure into rugged terrain." —Kirkus Reviews

"A singularly unique and seminal study…impressively informative, exceptionally well written, and thoroughly 'reader friendly' in organization and presentation. An inherently fascinating and thought-provoking read from cover to cover, Himalaya is especially and unreservedly recommended for community, college, and university library collections. It should be noted for the personal reading lists for anyone with an interest in Central Asian History." —Midwest Book Review

"An important work on an imperiled land, best suited to collections with an emphasis on geography, geology, or environmentalism." —Library Journal

"A lively, wide-ranging primer on the towering mountain ranges known collectively as the Himalayas … timely, authoritative." —Booklist

"I started this book thinking a better understanding of Himalaya would merely augment my knowledge of the area. But I ended believing I'd stumbled upon a wholly unique, hidden region with a surprisingly central role in our history, especially regarding climate change and the religious impulses that buttress its natives. It's also a place that could not be subdued by Europeans. It stands apart, mystified and demystified in Keay's Himalaya, challenging our assumptions about the planet and its peoples." - Washington Independent Review of Books