The Illustrated Guide to Chickens: How to Choose Them, How to Keep Them (Paperback)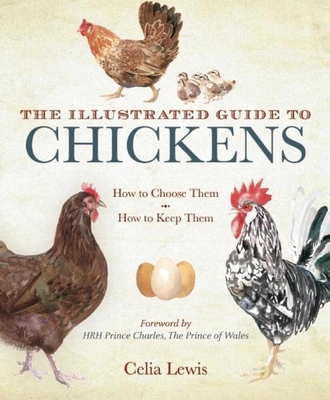 Description
---
An illustrated guide to the selection and care of chickens.

Chickens are fun, useful, and easy to keep. If you have ever considered raising your own backyard flock, The Illustrated Guide to Chickens is the book for you!

This book offers practical advice and contains all the information you need to choose from one of the hundred most familiar breeds of chicken in North America and Europe. Each breed's profile is written in engaging text that covers its history and main characteristics. You will also find practical advice about poultry rearing and husbandry, including the pros and cons of pure breeds, hybrids, bantams, game foul, and more. The breeds include:

Appenzeller
Hamburg
New Hampshire Red
Transylvanian Naked Neck
And many more!
About the Author
---
Celia Lewis started her art career studying life and portrait charcoal drawing with Signorina Simi in Florence. She is now a member of a dynamic art group and several societies in England. Living in the countryside, Celia is lucky enough to be able to keep hens and guinea fowl in her garden, and, along with nearby pigs, cows, and sheep, this is where she finds her inspiration. She is also the author and illustrator of The Illustrated Guide to Pigs. She lives in Surrey, England.

HRH Prince Charles, Prince of Wales, is the son of Queen Elizabeth II and heir apparent to the English throne. He is involved in numerous philanthropic endeavors, having established numerous charitable organizations throughout the Commonwealth realms.