The Climate Action Handbook: A Visual Guide to 100 Climate Solutions for Everyone (Paperback)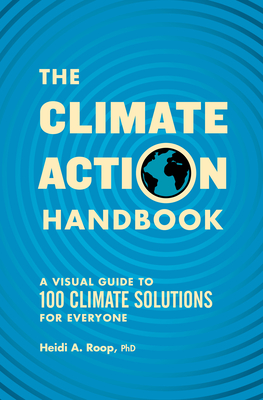 $24.95

Coming Soon - Available for Pre-Order Now
Description
---
This must-have book shows us WHY we need to take action now to combat climate change and then, critically, HOW, through easy-to-understand language and stunning infographics that offer each of us varied and doable solutions to the overwhelming challenges facing our planet.

As more focus is put on climate science, there is a need for each of us to learn how we can change our habits in our home, communities, and government to help mitigate the existential threat of climate change. The Climate Action Handbook is the response to this need, and the book every household needs.

This visually stunning guide does what no other climate change book manages to do: it's approachable, digestible, and offers the average human ideas, options, and a roadmap for action. It also offers hope. Climate scientist Dr. Heidi Roop lays out the issues facing the planet and offers up 100 important actions that readers can take right now in their daily lives to help slow the adverse effects of climate change. Compelling infographics provide visual impact and context to the topic at hand.
About the Author
---
DR. HEIDI ROOP is a climate scientist with a passion for science and communication. She is an Assistant Professor of Climate Science at the University of Minnesota where she serves as the University's leading voice for climate change science and solutions. Heidi was formerly the Lead Scientist for Science Communication at the University of Washington Climate Impacts Group (CIG) where she was deeply engaged in local media and climate change education for a range of audiences from the general public to policymakers. Heidi combines climate science research and the science of science communication to connect climate information to decision-makers and communities across the Pacific Northwest, U.S., and abroad. Her climate science research has taken her to all seven continents, participating in research from Alaska and Antarctica to the mountains of Vietnam and New Zealand. To support engagement with climate science, Heidi has developed numerous education and communication products for NASA, the National Science Foundation, and the Exploratorium in San Francisco.

JOSHUA M. POWELL is the author of The Pacific Crest Trail: A Visual Compendium. He works as a graphic designer and lives in the Inland Northwest with his wife and son.