House Lessons: Renovating a Life (Paperback)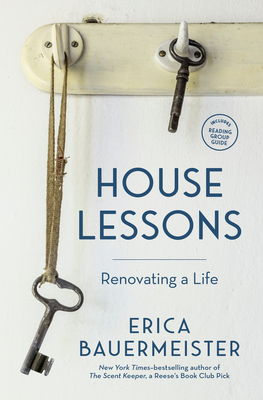 $16.95

Usually Ships in 1-5 Days
Description
---
From New York Times Bestselling Author Erica Bauermeister comes a memoir about the power of home and the transformative act of restoring one house in particular.
 
"I think anyone who saves an old house has to be a caretaker at heart, a believer in underdogs, someone whose imagination is inspired by limitations, not endless options."
 
In this mesmerizing memoir-in-essays, Erica Bauermeister renovates a trash-filled house in eccentric Port Townsend, Washington, and in the process takes readers on a journey to discover the ways our spaces subliminally affect us. A personal, accessible, and literary exploration of the psychology of architecture, as well as a loving tribute to the connections we forge with the homes we care for and live in, this book is designed for anyone who's ever fallen head over heels for a house. It is also a story of a marriage, of family, and of the kind of roots that settle deep into your heart. Discover what happens when a house has its own lessons to teach in this moving and insightful memoir that ultimately shows us how to make our own homes (and lives) better.
About the Author
---
ERICA BAUERMEISTER is the bestselling author of four novels: The School of Essential Ingredients, Joy for Beginners, The Lost Art of Mixing, and The Scent Keeper. She is also the coauthor of 500 Great Books by Women: A Reader's Guide and Let's Hear It For the Girls: 375 Great Books for Readers 2-14. She has a PhD in literature from the University of Washington, and has taught there and at Antioch University. With the exception of two years in Italy, Bauermeister has lived in the Pacific Northwest for nearly four decades, and her children proudly say rainwater runs in their veins. She is a founding member of the Seattle7Writers and currently lives in Port Townsend, Washington, in the house she renovated with her family.
Praise For…
---
Named a "Best Book of 2020" by Real Simple

Washington State Book Award Finalist

Pacific Northwest Booksellers Association Bestseller

"One part investigation of architecture and design, one part exploration of identity, House Lessons is a meditation on space and home, and Bauermeister is a Zen master of the self."
—Adrienne Brodeur, author of Wild Game

"Almost anyone who's ever let heart rule head will nod, at the very least, at the stories that a 100-year-old house in Port Townsend, Washington, evokes. In her memoir of falling in love with a house, novelist Bauermeister details every cranny, cove, and piece of plaster...This will resonate with any readers who love words and old houses."
—Booklist, starred review

"...a family memoir, a primer of architectural theories and a study of how people relate to their spaces. Fans of [Bauermeister's] four novels know [she] has a keen appreciation of the senses—savoring food in The School of Essential Ingredients, the art of fragrance in The Scent Keeper. She demonstrates that same respect for the renovation."
—Shelf Awareness

"Erica Bauermeister's latest book is a thoughtful, entertaining memoir of the time she and her family spent renovating the mother of all fixer-uppers...Bauermeister has given us a skeleton key to unlock ideas about self and space and place..." 
—Christian Science Monitor

"This beautifully written memoir is for anyone who has wondered where home is and how to find it, fix it, love it, and leave it for later as well. We are lucky to be along for the ride."
—Laurie Frankel, New York Times bestselling author of This Is How It Always Is

"This deeply moving story of an epic home renovation pulls essential life lessons from the logistics of plaster removal and pipe fitting and moves effortlessly across time and topic to find moments of reflection, optimism, and love in the most unlikely of places."
—Tara Conklin, New York Times bestselling author of The Last Romantics and The House Girl
 
"Intimate and gracefully told, here is the irresistible story of a house and a family in transmutation."
—Rikki Ducornet, author of The Deep Zoo
 
"Reading House Lessons is itself like walking through a beloved old home, where strange treasures and beautiful eccentricities reveal themselves around every corner. Generous and artful, this is a hard-won story of the work that goes into building a life." 
—Molly Wizenberg, bestselling author of A Homemade Life