The Creaky Knees Guide Washington, 3rd Edition: The 100 Best Easy Hikes (Paperback)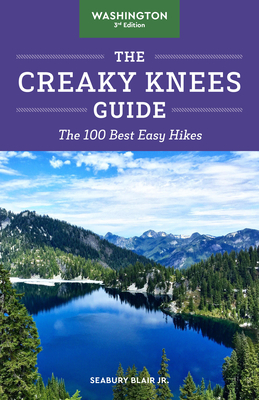 $19.95

Coming Soon - Available for Pre-Order Now
Description
---
The updated edition of this bestselling guide (25,000 copies sold) features 85 of the best low-impact day hikes in Oregon state, perfect for aging baby boomers, seniors, those traveling with small children, and anyone else interested more in a stroll than a climb.

The Creaky Knees Guide Oregon is a day-hiking guidebook filled with kinder, gentler trails, featuring the best easy-to-walk hikes throughout the state. Written in an informative style that will appeal to anyone, regardless of age, the guide covers hikes in six regions throughout the state, including the Oregon Coast, Columbia River Gorge, and Mount Hood. There is also a section on urban hikes and walks. Each trail description includes elevation gains, including a topographical map; clear, up-to-date driving directions; mileage and estimated hiking time; trail conditions; and more.

This guide by Day Hike! series author Seabury Blair Jr. is a perfect resource anyone can use to explore the beauty of the Northwest, without breaking too much of a sweat.
About the Author
---
SEABURY BLAIR JR. spent many years as the outdoor columnist for the Bremerton Sun newspaper. He created the R&R section for the Sun several years ago, a prototype for most of the outdoor-travel sections you now find in all Puget Sound papers. One of his most popular regular features was the Hike O' the Month, and he has contributed to the website for Go West. He is also the author of The Creaky Knees Guide Washington and three guides in the Day Hike! series: Olympic Peninsula; Columbia Gorge; and Spokane, Coeur d'Alene, and Sandpoint. He is a hardcore backcountry skier and hiker, and lives in Deer Park, Washington, with his wife and mapmaker, Marlene.