The Marvelous Land of Oz (The Wizard of Oz Series #2) (Hardcover)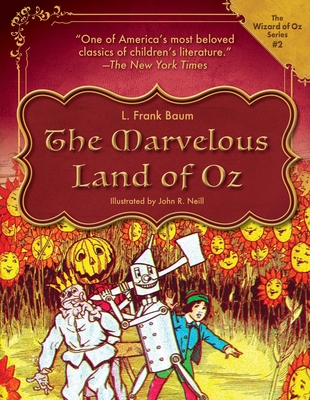 $14.99
Email or call for price
Description
---
"As a writer, Baum rarely knew when to quit, unfurling marvel after marvel..."—The New Yorker​

Originally published 115 years ago, this lesser-known but equally enchanting sequel to The Wonderful Wizard of Oz is sure to continue the delights wrought by the first of L. Frank Baum's classic children's series. We rejoin the Tinman, the Scarecrow, Glinda the Good Witch, and more in this fantastical book.

In The Marvelous Land of Oz, we are welcomed back to the Land of Oz after Dorothy Gale has been whisked back to Kansas. We are introduced to Tip, a young orphan boy who has been under the guardianship of a Wicked Witch, Mombi, for as long as he can remember. Tip plans to get his revenge with a wooden man that he has made using a jack-o'-lantern as a head. Unfortunately, the witch is not fooled and threatens to turn Tip into a statue using the "Powder of Life." Rather than staying to be turned into a statue, Tip runs away after stealing the Powder of Life from Mombi, using it to animate a sawhorse for Jack to ride. Thus begins Tips adventures as he journeys to the Emerald City, escapes revolts, and learns just who the true ruler of Oz is.

This handsome, affordable edition contains original full-color artwork by John R. Neill. Experience a classic in its truest form, and pick up this beautiful new edition of The Marvelous Land of Oz.
 
About the Author
---
L. (Lyman) Frank Baum was an American author and writer of children's books. He was born in Chittenango, New York, in 1856. Baum started writing at an early age; throughout his prolific career, he penned over fifty novels, eighty short stories, and two hundred poems. In 1900, Baum wrote his most successful work, The Wonderful Wizard of Oz, which he shared the copyright for with illustrator W. W. Denslow. The book quickly became a bestseller, and has inspired dozens of popular theater and film adaptations ever since.

John R. Neill was an American illustrator for newspapers and children's books. He is primarily known for illustrating the Oz books by L. Frank Baum, beginning with the second book of the series, The Marvelous Land of Oz. He continued to illustrate the series after Baum's death and eventually became the designated "Oz historian," even writing three books in the series. His illustrations enhanced Baum's writing, bringing characters and scenery to life.
 
Praise For…
---
"Oz began as a stand-alone children's novel and transformed into a major enterprise that has since become a staple in children's and genre literature."—Kirkus Reviews

"Baum's fingerprint remains present in genre history."—Kirkus Reviews

"As for the value of diversity... what writer teaches this better than Baum"—New York Times

"Baum succeeded in writing simply while never sacrificing emotion sophistication or his natural respect for every child's moral capacities."—New York Times

"Quintessentially American"—New York Times

"In the light of 21st-century problems...Baum's lessons seem especially relevant."—New York Times

"One of America's most beloved classics of children's literature"—The New York Times

"Baum is an authentic wizard as a children's author" —The New Yorker

"As a writer, Baum rarely knew when to quit, unfurling marvel after marvel..."—The New Yorker