Really Bad Dad Jokes: More Than 400 Unbearable Groan-Inducing Wisecracks Sure to Make You the Funniest Father With a Quip (Hardcover)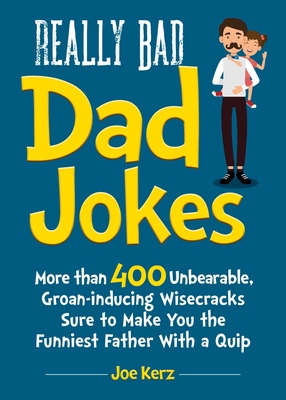 $9.99

Usually Ships in 1-5 Days
Description
---
Nothing is more hilarious for moms, sons, and daughters than the bad jokes dad tell. Here are hundreds of the worse-ever jokes to crack the whole family up.
Do you enjoy making puns about the most random things you can think of? Do you enjoy inducing embarrassment and eye-rolling from your family? Do you often crack yourself up with your own jokes? Then
Really Bad Dad Jokes
is for you! In this follow-up to
Dad Jokes
, you'll find a multitude of the ultimate dad jokes, such as:
If prisoners could take their own mug shots, would they be called cellfies?
Dogs can't operate MRI machines. . . but catscan!
What did one plate say to the other? "Lunch is on me!"
What does a martial arts expert drink? Kara-tea
And many, many more!
With over 400 unbearably funny puns, quips, and one-liners,
Really Bad Dad Jokes
is your secret to mastering one of the most groanworthy arts of being a dad.
About the Author
---
Joe Kerz is an all-star dad and an author who has written more than one hundred books. He resides in the suburbs of New York City with his wife, children, lawn mower, and minivan.