Not a Poster Child: Living Well with a Disability--A Memoir (Paperback)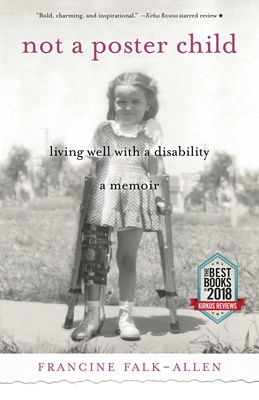 Description
---
2019 Living Now Book Awards Gold Medal Winner in Inspirational/Memoir (Female)
2018 Sarton Women's Book Awards finalist in Memoir
Kirkus Reviews' Best Books of 2018
2018 Sarton Women's Book Awards Silver Medal in Memoir Francine Falk-Allen was only three years old when she contracted polio and temporarily lost the ability to stand and walk. Here, she tells the story of how a toddler learned grown-up lessons too soon; a schoolgirl tried her best to be a "normie," on into young adulthood; and a woman finally found her balance, physically and spiritually. In lucid, dryly humorous prose, she also explores how her disability has affected her choices in living a fulfilling (and amusing) life in every area--relationships, career, religion (or not), athleticism, artistic expression, and aging, to name a few. A clear-eyed examination of living with a handicap, Not a Poster Child is one woman's story of finding her way to a balanced life--one with a little cheekiness and a lot of joy.