In My Mind's Eye: A Thought Diary (Hardcover)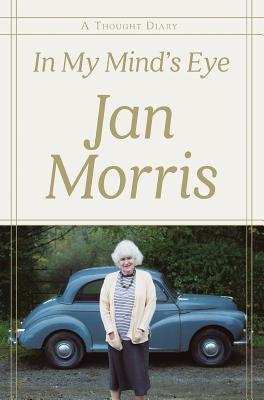 for information about purchasing this book, please contact orders@bookpassage.com
Staff Reviews
---
Get a cup of tea and a biscuit, and pull up a chair as you peek into a diary of esteemed historian, travel writer, and delightfully opinionated nonagenarian, Jan Morris. In even the briefest entries, you'll find great depth. She tells us of her beloved partner, Elizabeth, her grandchildren, her home in Wales, and the current state of the world. Don't miss her take on Brexit. She doesn't spend much energy on old age. She's glad to still be around. On the other hand she doesn't sugarcoat the facts. Some entries are poetic and philosophical while others are wickedly funny. All are right on point. You'll soon find time has flown as you've been having tea with the gentle yet grand Jan Morris. —Elaine
— From
Elaine and Luisa's Picks: January - February 2019
Description
---
A New York Times Book Review Editors' Choice Selection
Riffing on cats and Brexit, the Royals and the annoyances of aging, the nonagenarian Jan Morris delights with her wickedly hilarious first-ever diary collection.
Celebrated as the "greatest descriptive writer of her time" (Rebecca West), Jan Morris has been dazzling readers since she burst on the scene with her on-the-spot reportage of the first ascent of Everest in 1953. Now, the beloved ninety-two-year-old, author of classics such as Venice and Trieste, embarks on an entirely new literary enterprise—a collection of daily diaries, penned over the course of a single year. Ranging widely from the idyllic confines of her North Wales home, Morris offers diverse sallies on her preferred form of exercises (walking briskly), her frustration at not recognizing a certain melody humming in her head (Beethoven's Pathétique, incidentally), her nostalgia for small-town America, as well as intimate glimpses into her home life.
With insightful quips on world issues, including Britain's "special relationship" with the United States and the #MeToo movement, In My Mind's Eye will charm old and new Jan Morris fans alike.
About the Author
---
Jan Morris (1926-2020) lived and wrote as James Morris until 1972. She resided with her partner, Elizabeth Morris, in northwest Wales, between the mountains and the sea. Her many books included In My Mind's Eye, Coronation Everest, and the Pax Britannica trilogy.
Praise For…
---
In My Mind's Eye — a collection of mini-essays, written one per day over the course of many months — reveals that her writing is just as elegant and erudite, and her mind just as supple, playful, curious, rigorous, humorous and surprising as ever.

— Sarah Lyall, New York Times

"[Morris] is the same age as Queen Elizabeth II and like that remarkable monarch she still seems, in her early 90s, to be completely engaged with the world, understanding of its foibles and appreciative of what life has to offer.... Reading these beautifully written pages, one is struck by the gentle note of lament they host.... In My Mind's Eye is a lovely book, halfway between a diary and a volume of brief essays, a book that has a gentle, haunting tone. It will remind us of what a good, wise and witty companion Jan Morris has been for so many readers for so long."
— Alexander McCall Smith, New York Times Book Review

The most purely charming thing I have read so far in 2019 is Jan Morris's In My Mind's Eye.... There is so much dash and verve in Morris's sentences, so much personality, a generosity of spirit that is flavored by well-earned crankiness.... [S]o charming, so endearing, such an antidote to boredom."

— Constance Grady, Vox

This is vintage Morris – the mundane mingling with the majestic in a casual embrace, a regular walk quickened by Welsh military marches and stirring requiems. Like Michel de Montaigne, the seminal 16th-century essayist she deeply admires, Ms. Morris is a great expert at amusing herself, viewing her local stomping grounds as a lively source of theater.... Sublime.
— Danny Heitman, Wall Street Journal

It is remarkable to be writing a book at 91, yet what grips is not so much her thoughts about the world (towards which she turns and turns away) but her sense of the rhythms of domestic life.
— The Guardian

A splendidly quirky confection that mixes the trivial with the serious, like life.... Morris has a gift for picking out what seems only in retrospect to be obvious. Like all good diaries, this one benefits from the strengths of the form: the possibility of being (or sounding) spontaneous and impressionistic.
— Literary Review (UK)

In committing her ruminations to 320 entertaining pages, Morris creates a captivating image of a delightfully dotty elderly lady.... After closing the book, I felt bereft of Morris's company and her chummy, conversational prose style.
— Susan Flockhart, Glasgow Sunday Herald

Morris is one of Britain's greatest living writers.
— The Times (UK)

At the start of her 10th decade, Jan Morris was asked to write a diary of her thoughts. Day-to-day observations and experiences, mostly light, some weighty, others the expected ruminations of a versatile British author long celebrated for her histories and travel writing. Morris, now 92, undertook the task with some trepidation, not because of her age — she is doing quite nicely, thank you — but out of modesty: Why would anyone care? Well, we do. Especially when these brief, daily entries range so widely, from sharp, wistful or cranky to eccentric and grandmotherly.
— Bill Thomson, The Post and Courier