Donald Duck: Timeless Tales Volume 2 (DONALD DUCK Timeless Tales #2) (Hardcover)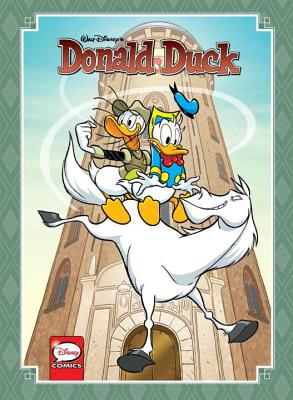 $29.99
Email or call for price
Other Books in Series
This is book number 2 in the DONALD DUCK Timeless Tales series.
Description
---
"Howlin' crashwagons!" IDW's series of Donald Duck comics come together in a collectors' hardback with more of what you want: more amazing epics by Romano Scarpa, Giorgio Cavazzano, and other great comics maestros; more danger for desperate Donald, and more bills for Uncle Scrooge McDuck, forever hauling his nephew's fat out of the fire! With extras for true Disney Comics aficionados, this omnibus provides hours of history and thrills. Collects issues #7–12.
About the Author
---
The classic "maestro" Romano Scarpa (1927-2005) has historically been the most popular Italian talent with American Disney comics readers. As early as his youth in Venice, Scarpa had a passion for Disney comics and cartoons, with a particular fondness for the work of Floyd Gottfredson, plotter and artist of the classic Mickey Mouse newspaper strip. In 1955, Gottfredson was forced to transform that strip—hitherto a groundbreaking adventure serial—into a gag-a-day series. In 1956, Italian editors asked Scarpa to pick up the adventure serials where Gottfredson left off, and continue the narrative for Disney's European readers.

Scarpa crafted legendary Italian Mickey epics like "Kali's Nail," "The Chirikawa Necklace," and "The Delta Dimension," all of which were later reprinted in the USA to great acclaim. Apart from his Mickey work, Scarpa created two beloved thorns for Uncle Scrooge's side: brassy business-gal Brigitta MacBridge and wanna-be tycoon Jubal Pomp!

After sustaining a wildly prolific career, Scarpa retired in Spain, leaving behind a grand legacy for younger Disney writers and artists, such as Giorgio Cavazzano.

Giorgio Cavazzano is an Italian artist that started his career at the age of 14 inking for Romano Scarpa producing stories for Disney with the characters Micke Mouse, Donald Duck, Scrooge McDuck, and others. He is known for combining the traditional appearance of Disney characters with realistic illustration of technological gadgets and machinery.
Praise For…
---
"I love that IDW is bringing over foreign stories and making them available for the US market. This is a must have for any Disney fan, as readers of all ages will enjoy it." –Bleeding Cool