Super Weird Heroes: Outrageous But Real! (Hardcover)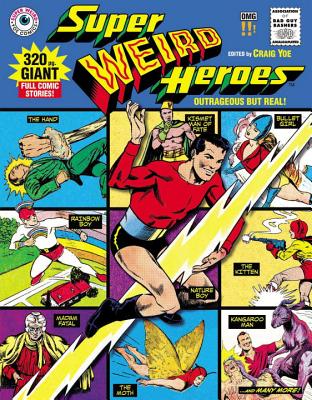 $39.99
Email or call for price
Description
---
SUPER!--SUPER Weird Heroes is the first superhero book from Yoe Books/IDW! Over 500 pages, this ginormous tome is as thick as a brick! This bargained-priced book is filled with tons of rare, full-color, never-before-reprinted comics which could cost you hundreds of thousands of dollars on the collector's market!

WEIRD!--Super WEIRD Heroes is the most bizarro, wacky, wild, astonishing eye-popping, jaw-dropping, book… EVAH! It's loaded with beyond-belief "WHAT TH'?!?!" moments! Wait till you tell your friends what you discover in its pages!

HEROES!--Super Weird HEROES will make you laugh, cry, and be immensely entertained! You're going to witness Public Domain superheroes like The Hand (yes, he's a giant hand), The Eye (you got it—he's a yuuuge eye), The Bouncer (this super-hero-in-a-skirt's power is bouncing)!

There's Rainbow Boy (he sports a towering rainbow mohawk on his head), Boomerang (he defeats Nazi hordes and weaponry by throwing a little boomerang), Kangaroo Man (don't jump to conclusions—he's even weirder than you think—his fighting partner is a talking kangaroo!).

You'll spit-take your milk reading the adventures of The Yellowjacket (he fights villains with bees), Madame Fatal (a cross dressing hero), and Phantasmo (who fights criminals barely wearing any clothes at all)! And this is just a small fraction of the Super Weird Heroes you'll experience in this must-have book—there are over 65 super weird heroes in all!

Super Weird Heroes is edited by the Eisner winner Craig Yoe who Vice Magaizine called, "The Indiana Jones of nerd-perv artifacts!"
About the Author
---
Vice magazine has called Craig Yoe the "Indiana Jones of comics historians." Publishers Weekly says he's the "archivist of the ridiculous and the sublime" and calls his work "brilliant." The Onion calls him "the celebrated designer," The Library Journal, "a comics guru." BoingBoing hails him "a fine cartoonist and a comic book historian of the first water." Yoe was Creative Director/Vice President/ General Manager of Jim Henson's Muppets, and a Creative Director at Nickelodeon and Disney. Craig has won an Eisner Award and the Gold Medal from the Society of Illustrators.
Praise For…
---
"Gloriously goofy!" –Comic Mix

"The perfect primer for anyone, of any age, that loves the superhero genre." –Forces of Geek

"I love Craig Yoe's dedication to reviving forgotten comics and seeing in print the forgotten bizarro super weird heroes!" –Alex Ross

"Diverse and variant!" –Comic Wow

"Delightfully oddball." –Times Record