Walt Disney's Donald Duck: The Sunday Newspaper Comics Volume 1 (DONALD DUCK Sunday Comics #1) (Hardcover)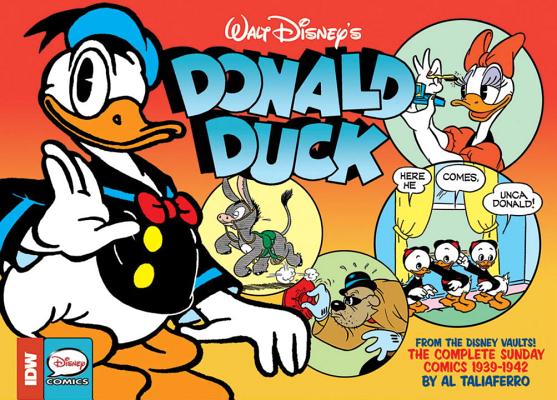 $49.99
Email or call for price
Description
---
From the Disney Vaults—the original Donald Duck color Sunday comics collected in a book series for the very first time! After a try-out as part of the Silly Symphonies series, Donald was given his own Sunday comics page in late 1939 and it became an instant hit. This premiere volume includes more than three full years of rare Sunday comics, from the first strip from December 10, 1939 through the end of 1942. Drawn by Al Taliaferro and written by Bob Karp, the comics are reproduced from pristine original material in the Disney Vaults!
About the Author
---
Bob Karp was born in Minneapolis, Minnesota in 1911. He moved west and joined his two older brothers at the Disney in 1937, where he worked on the Donald Ducknewspaper strip and other projects for 37 years.

Charles Alfred Taliaferro was born in Montrose, Colorado on August 29, 1905 and moved with his family to Glendale, California in 1918. "I knew I was going to be a cartoonist," he told interviewer Jim Korkis in 1968. "I've always believed that if you want anything bad enough and you work hard enough for it, eventually you'll get it." In the middle of the Great Depression in 1931 he learned that the Walt Disney Studio had jobs available. "I went in and was hired on the spot: January 5, 1931," he recalled. At first he inked Floyd Gottfredson's Mickey Mouse newspaper strip. He then went on to draw the Silly Symphonies Sunday page, where on September 16, 1934 he first drew Donald Duck, the character with whom he would become forever associated.