Rick Steves Eastern Europe (Paperback)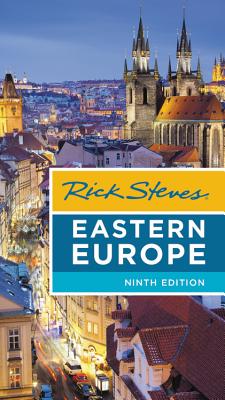 Description
---
You can count on Rick Steves to tell you what you really need to know when traveling in Eastern Europe-including the Czech Republic, Slovakia, Poland, Hungary, Slovenia, and Croatia.

Explore Eastern Europe's top cities, from the romantic spires of Prague and the steamy thermal baths of Budapest to charming Kraków and laid-back Ljubljana. Enjoy the imperial sights of Vienna and walking tours of exotic Dubrovnik. Then delve into the region's natural wonders: hike through the waterfall wonderland at Plitvice Lakes National Park, drive the winding road to the Julian Alps, and watch the sun dip slowly into the Adriatic from the Dalmatian Coast.

Rick's candid, humorous advice will guide you to good-value hotels and restaurants. He'll help you plan where to go and what to see, depending on the length of your trip. You'll learn which sights are worth your time and money, and how to get around by train, bus, car, and boat. More than just reviews and directions, a Rick Steves guidebook is a tour guide in your pocket.
About the Author
---
Since 1973, Rick Steves has spent about four months a year exploring Europe. His mission: to empower Americans to have European trips that are fun, affordable, and culturally broadening. Rick produces a best-selling guidebook series, a public television series, and a public radio show, and organizes small-group tours that take over 30,000 travelers to Europe annually. He does all of this with the help of more than 100 well-traveled staff members at Rick Steves' Europe in Edmonds, WA (near Seattle). When not on the road, Rick is active in his church and with advocacy groups focused on economic and social justice, drug policy reform, and ending hunger. To recharge, Rick plays piano, relaxes at his family cabin in the Cascade Mountains, and spends time with his son Andy and daughter Jackie. Find out more about Rick at www.ricksteves.com and on Facebook.
Connect with Rick:
facebook.com/RickSteves
twitter: @RickSteves
instagram: ricksteveseurope