Moon Havana (Moon Handbooks) (Paperback)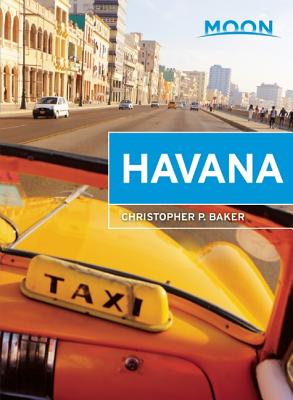 Description
---
The time to visit Havana is now! In 2014, the United States began re-establishing diplomatic relations with Cuba. For the first time in decades, every U.S. citizen can now visit Havana, the most beautiful and beguiling of Caribbean cities.

In Moon Havana, award-winning travel writer Christopher P. Baker highlights Havana's most fascinating and unique features, including the Plaza de la Catedral, the enchanting Habana Vieja (Old Havana), and the Museo Ernest Hemingway. He also offers fun and creative travel suggestions, such as "A Week in Havana" and "Havana's Musical Feast."

With Moon Havana, you will:
Choose the best guides, tours, and means of transportation.
Walk the city's most colorful, energetic streets
Find the ultimate mementos–authentic Cuban cigars and rum
Appreciate the city's history, from its colonial origins through the revolution

This full-color guide includes vibrant photos and easy-to-use maps to help with trip planning. With up-to-date information on Havana for new and returning visitors, Moon Havana gives travelers the tools they need to create a more personal and memorable experience.
About the Author
---
Christopher P. Baker was born and raised in Yorkshire, England. He received a BA in geography from University College, London, and masters degrees in Latin American studies from Liverpool University and in education from the Institute of Education, London University.

He began his writing career in 1978 as a contributing editor on Latin America for Land & Liberty, a London-based political journal. In 1980, he received a Scripps-Howard Foundation Scholarship in Journalism to attend the University of California, Berkeley.

Since 1983, Christopher, the 2008 Lowell Thomas Travel Journalist of the Year, has made his living as a professional travel writer, photographer, lecturer, and tour guide. He specializes in Cuba, about which he has written six books. He has contributed to more than 150 publications worldwide, including CNN Travel, National Geographic Traveler, Robb Report, and The Los Angeles Times. Christopher has been profiled in USA Today, appears frequently on radio and television talk shows and as a guest-lecturer aboard cruise ships, and has spoken at the National Press Club, World Affairs Council, and on National Geographic Live. He is a National Geographic Resident Expert and conducts tours of Cuba, Colombia, and Costa Rica and Panama for National Geographic Expeditions. In 2013, he led the first-ever motorcycle tours of Cuba for U.S. citizens on behalf of MotoDiscovery.

His many books include Moon Costa Rica, Mi Moto Fidel: Motorcycling Through Castro's Cuba, and Cuba Classics: A Celebration of Vintage American Automobiles.

Christopher's website can be found at christopherpbaker.com.