Find Your Mantra Journal: A Journal to Inspire and Empower Your Life (Everyday Inspiration Journals) (Hardcover)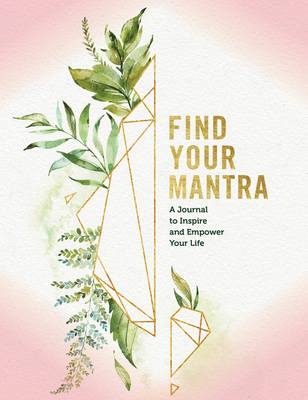 for information about purchasing this book, please contact orders@bookpassage.com
Other Books in Series
This is book number 5 in the Everyday Inspiration Journals series.
Description
---
The Find Your Mantra journal is a beautifully designed tool to help you transform your life through the power of positive affirmations.

Mantras—positive phrases repeated during meditation to ignite optimism in daily life—are tools to help you construct your perfect "mind palace" and share your light with the people you cherish. Having a personal mantra can put you in the right mindset to seek out your best self.

The exercises and guided meditations in Find Your Mantra help you reflect on your personal experiences in peace, love, happiness, strength, your individual journey, and more. Powerful journal prompts will help manifest each carefully selected mantra into a reality full of optimism, positivity, and mindfulness. Discover simple methods to be a little kinder to yourself, guidance on how to open your heart and mind to the life that you deserve, and uplifting affirmations to bring inspiration into your life.
Some mantras, mantra actions, and prompts include:

EVERYTHING WILL BE ALRIGHT.
The dark is greedy, but you are bright. During
meditations (or just when times are tough) flutter
the eyelids closed. Elongate your neck and tilt your
chin ever so slightly toward the sky. Find the sun in
the dark. Everything will be alright.
How can you open your heart and allow in more light?

NO REGRETS.
Remove the word "mistake" from your vocabulary.
You no longer mess up; you only open yourself
up to opportunities for learning and growth. You
only participate in "happy accidents." Welcome the
wrong because from the foulest compost
comes the most beautiful flowers.
When was the suffering worth the "yes!" you committed to?

BE THE CHANGE
Always remember to be the change that you wish to see
in the world and in your life. When a butterfly enters its
chrysalis, it does not simply morph into a butterfly but it
becomes liquid, shedding the vestiges of its former life
entirely so that it can transform into its true body.
Be this change; be something so entire and complete
that you can't remember how gravity confined
you to the ground for so long.
How will you embrace change?

Whether you use this journal to help you grow in love and friendship or for little everyday pick-me-ups, Find Your Mantra will fortify your inner voice, and bring insight into your day-to-day life to empower your dreams.

The Everyday Inspiration Journals series has a guided journal for every self-improvement journey. Whatever your personal goal, whether it is to incorporate more positivity into your life, or to slow down and find calm, or to hone your spell-building craft, or something else, you will find in this series an elegant journal in which you can record your thoughts, aspirations, and progress. With a simple, easy-to-follow structure, each journal is filled with powerful prompts and helpful trackers to illuminate your way.

Other titles in this series include:  Be Happy: A Journal, Beautifully Brave Journal, Everyday Calm: A Journal, Finding Gratitude : A Journal, Self Care, and Spellcraft
About the Author
---
Rock Point Gift & Stationery features creative products including journals, kits, gift books, and calendars. Whether it's learning about how to draw calligraphy animals, learning some traditional origami with kits that include books and beautiful papers, or simply jotting down notes in beautiful journals, Rock Point offers an inspired and innovative range of products that will appeal to inventive and creative people.