Be Happy: A Journal: Powerful Prompts for Personal Growth and Well-Being (Everyday Inspiration Journals) (Hardcover)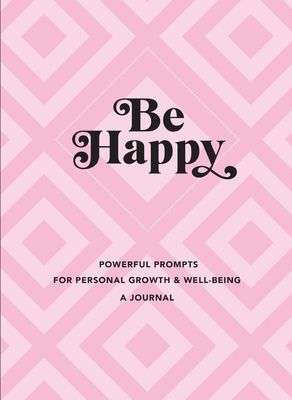 for information about purchasing this book, please contact orders@bookpassage.com
Other Books in Series
This is book number 3 in the Everyday Inspiration Journals series.
Description
---
Be Happy: A Journal is here to help you find sustainable happiness in the well of yourself. With a focus on the power of choice, follow the prompts in this beautifully designed journal to find and follow your unique path to success.

Happiness is a transient emotional state. We frequently think of it as a place we're trying to get to, but happiness is more a constant process rather than a destination. Prompts in the Be Happy: A Journal will ask you to reflect on the choices you are currently making versus the choices you will be prompted to write about and explore.

Sometimes our choices are unconscious, and it's not until we are presented with alternatives that we realize we've been sabotaging ourselves all along. We must think about the daily choices that determine (a) the emotional states we want to embody, and (b) the personal values we can connect with along the way. If you're a fan of "fast"—not necessarily in the quick-fix kind of way, but in a this-fits-easily-into-my-day kind of way—then this journal (and journey!) is for you. A hardworking set of tools that you can access on your own terms, in your own time.

This journal is organized into nine sections, each one asking you to choose an important part of living a full life, and determine how you may or may not have been doing so thus far. As you go through the prompts, you may find that you are following the right path. If that is the case, think deeper on how you can push yourself further; there's always room for improvement. If this has not been your path, use the prompts and hardworking tools to map a new path to success, and make a deep commitment to changing your way of thinking.

The prompts in this journal will focus on diving deep into your personal power, the power you have in choosing emotional states and values that help you to live a full life based on what's important to you deep down. You'll be encouraged to put these lessons to work and look at ways you can cement positivity into your everyday life. After taking time to look inward while answering these prompts and identifying which parts of your life you'd like to change, focus your energy toward making an actual difference.

Hard to hold on to, difficult to find, and some days, not much more than a memory, happiness is still a part of us and what we as humans seek out, even when it eludes us. Luckily, thriving is a psychological state that doesn't just rely on positive feelings like happiness, but on the daily choices we make. Want to live a rich, vital, fulfilling life? Choose your focus. Choose your actions.

Congratulations on acknowledging that you can get more out of life. The happiness habits you cultivate will show you how. Let's go!

The Everyday Inspiration Journals series has a guided journal for every self-improvement journey. Whatever your personal goal, whether it is to incorporate more positivity into your life, or to slow down and find calm, or to hone your spell-building craft, or something else, you will find in this series an elegant journal in which you can record your thoughts, aspirations, and progress. With a simple, easy-to-follow structure, each journal is filled with powerful prompts and helpful trackers to illuminate your way.

Other titles in this series include:  Beautifully Brave Journal, Everyday Calm: A Journal, Find Your Mantra, Finding Gratitude : A Journal, Self Care, and Spellcraft
 
 
About the Author
---
Rock Point Gift & Stationery features creative products including journals, kits, gift books, and calendars. Whether it's learning about how to draw calligraphy animals, learning some traditional origami with kits that include books and beautiful papers, or simply jotting down notes in beautiful journals, Rock Point offers an inspired and innovative range of products that will appeal to inventive and creative people.