Finding Gratitude: A Journal (Everyday Inspiration Journals) (Diary)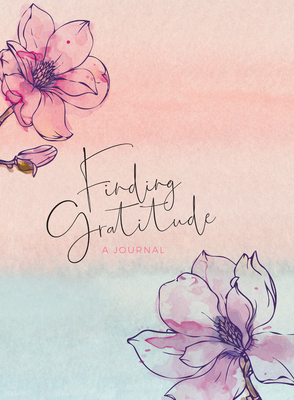 for information about purchasing this book, please contact orders@bookpassage.com
Other Books in Series
This is book number 1 in the Everyday Inspiration Journals series.
Description
---
Finding Gratitude: A Journal introduces the concept of gratitude and the power of positive thinking in everyday life with simple reminders, beautiful watercolor art, and personal journal space for your thoughts and meditations on the topic of gratitude.

Gratitude is the feeling of appreciation or thanks, a concept that has been strongly associated with greater happiness and believed by many in the wellness industry to improve overall health. Join the growing number of people who are improving their health and outlook on life with appreciative thoughts.

Inspired by the powerful women behind the book Finding Gratitude, Bex Lipp and Nicky Perry, who are part of AwesoME Inc, an organization that inspires their audience to use gratitude and positive thinking for mental and physical wellness. This guided journal contains short reminders that happiness can be found in the simplest things. Beautifully designed pages are accompanied by simple explanations that communicate the many reasons we can have to find gratitude each day. Discover your own ways of meditating on gratitude with a full page of space to write your thoughts on each subject.

Finding Gratitude: A Journal will help you improve your life—or the life of a family, friend, or co-worker—through conscious changes and environmental awareness. Soon, you will see more, enjoy more, and appreciate more.

The Everyday Inspiration Journals series has a guided journal for every self-improvement journey. Whatever your personal goal, whether it is to incorporate more positivity into your life, or to slow down and find calm, or to hone your spell-building craft, or something else, you will find in this series an elegant journal in which you can record your thoughts, aspirations, and progress. With a simple, easy-to-follow structure, each journal is filled with powerful prompts and helpful trackers to illuminate your way.

Other titles in this series include:  Be Happy: A Journal, Beautifully Brave Journal, Everyday Calm: A Journal, Find Your Mantra, Self Care, and Spellcraft
About the Author
---
Rock Point Gift & Stationery features creative products including journals, kits, gift books, and calendars. Whether it's learning about how to draw calligraphy animals, learning some traditional origami with kits that include books and beautiful papers, or simply jotting down notes in beautiful journals, Rock Point offers an inspired and innovative range of products that will appeal to inventive and creative people.