The Circle of Thirteen (Paperback)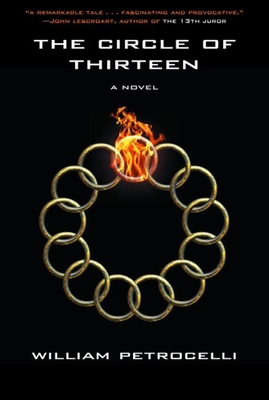 November 2013 Indie Next List
---
"What if women ruled the world? In his futuristic thriller, Petrocelli answers that question with a 2082 scenario involving governments run by women worldwide that are threatened by a male-ruled movement named Patria. Julia, the head of security, is worried about the increasing threats even as she is assaulted by memories of violence in her own past. The social and environmental currents that created the future Petrocelli posits, both for good and ill, are all too probable in a book with an intriguing premise and a wonderful cast of strong and head-strong women."
— Betsy Burton, The King's English, Salt Lake City, UT
Description
---
NOW AVAILABLE IN PAPERBACK
In 2082, a catastrophic explosion rocks the dedication ceremony of the new United Nations in New York City. Security Director Julia Moro is on the job, chasing after the misogynistic leader of Patria, a long-disbanded international terrorist organization now being whispered about again on the streets. This dangerous, shadowy figure has been linked to several bombing attempts and vicious attacks on women, including the Women of Peace--an organization headed by thirteen bold women who have risked their lives to restore worldwide peace. As Julia's investigation unfolds, a deep secret from her past threatens to strip her of everything she cherishes and plunge her into unrecoverable darkness.
The Circle of Thirteen'
s gripping narrative weaves back and forth in time, from an act of domestic violence that created the disturbed personality of the Patria mastermind, to the two weeks leading up to the bombing at the UN, to events half a century before the bombing that directly influence it. The strong, relatable women and the unbreakable bond between them provide an emotionally grounded window into the future's unforgettable history.
About the Author
---
Bill Petrocelli is the co-owner, with his wife Elaine, of the famed independent San Francisco Bay Area Book Passage bookstores. As a former Deputy Attorney General for the State of California and a poverty lawyer in Oakland, Petrocelli has long been an advocate for women's rights. The Circle of Thirteen is his first novel.