Rebound: Soaring in the NBA, Battling Parkinson's, and Finding What Really Matters (Paperback)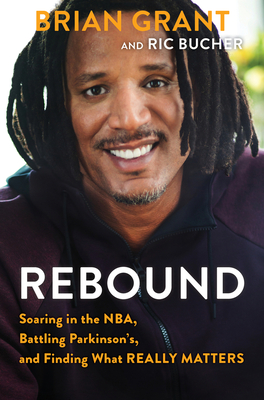 $16.95

Usually Ships in 1-5 Days
Description
---
"Basketball gave me a life; Parkinson's taught me how to live it." —Brian Grant 
After 12 years of playing basketball at the highest professional level, Brian Grant could have been forgiven for thinking that the hardest part of his life was behind him, that he'd be able to kick back and enjoy the fruits of his considerable labors.

But soon after his retirement from the NBA, Grant was diagnosed with Young-Onset Parkinson's disease, ushering in a challenge greater than any he'd faced before, as well as an opportunity to embrace what really matters. 
With esteemed basketball writer Ric Bucher, Grant shares his story in raw and candid fashion, as he takes readers to Sacramento, Portland, Miami, and beyond; to the airplane 30,000 feet in the air where he first came to understand the source of the tremors in his hand; and to the summit of Mount St. Helens alongside five others with PD, where he once again put himself to the test and defied expectations. 
In Rebound, Grant shares his remarkable life before, during, and after those NBA years with no shortage of compassion and wit. 
About the Author
---
Brian Grant played 12 seasons in the NBA for five different teams, most notably making the all-NBA rookie team with the Sacramento Kings and helping the Portland Trail Blazers reach the Western Conference Finals two years in a row (1999, 2000). His charitable work through the Brian Grant Foundation earned him the league's J. Walter Kennedy Award in 1999. He was diagnosed with young-onset Parkinson's in 2008 and made his condition public in 2009. Since then he has partnered with fellow PD sufferers Michael J. Fox and the late Muhammad Ali to support PD research. He is the father of eight children and lives near Portland, Oregon. Ric Bucher is a senior writer with Bleacher Report, an NBA TV analyst for Fox Sports, and hosts a daily podcast, Bucher & Friends. He has covered the NBA since 1993, including 14 years for ESPN (1998-2012) on all its platforms. He is the co-author with former NBA center Yao Ming of the New York Times' best-selling biography, YAO: A LIFE IN TWO WORLDS (Miramax, 2004). He lives in Northern California with his wife and two children.