Long Schott: Building Homes, Dreams, and Baseball Teams (Hardcover)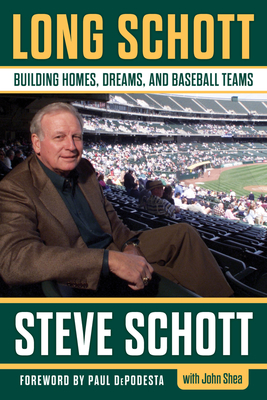 Description
---
A candid autobiography from the famously reclusive Oakland Athletics owner during the pivotal Moneyball era.

As the owner of the Oakland A's during the 1990s and early 2000s, Steve Schott fostered a front office culture of experimentation, risk, and autonomy that ultimately changed the course of modern baseball. As a founder of Citation Builders, he has been responsible for the construction of over 40,000 individual residences in the state of California.

Long Schott is a story about unlikely victories, from that feisty A's squad that rallied for a historic 20-game win streak to the booming California real estate market and beyond.

Co-authored by renowned San Francisco Chronicle baseball writer John Shea, this is a fascinating business story encompassing humble beginnings, unprecedented success, and the many lessons learned along the way.
About the Author
---
Stephen C. Schott, a homebuilder and land developer for more than 50 years in the San Francisco Bay Area, owned the Oakland A's baseball team for a decade, a run that featured four straight trips to the postseason. Schott works with his wife through their Stephen C. and Patricia A. Schott Foundation to benefit many programs and agencies, particularly education. He was born and raised in Silicon Valley, where he and his family still live. 

John Shea is the author of five baseball books, including the New York Times best-seller with Willie Mays, 24: Life Stories and Lessons from the Say Hey Kid, and Rickey Henderson's autobiography, Off Base: Confessions of a Thief. He is the award-winning national baseball writer at the San Francisco Chronicle.