Becoming a Leader: How to Develop and Release Your Unique Gifts (Expanded Edition with Study Guide) (Paperback)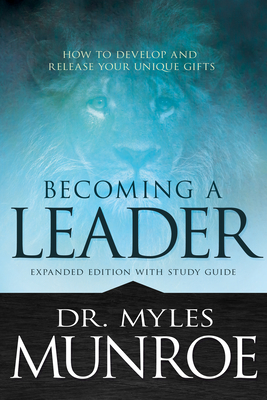 $16.99

Usually Ships in 1-5 Days
Description
---
Activate Your Leadership Potential
Best-selling author Dr. Myles Munroe dispels the myth that only some people are destined to be leaders, while everyone else is destined to be a follower. You can become the leader God intended you to be. Discover how to:
Activate your leadership potential.
Develop a positive legacy.
Find resources to fulfill your vision.
Empower others for leadership.
Embrace your unique role in life.
Recognize your inborn leadership abilities and become the leader you were meant to be
New expanded edition includes study questions for individual and group use.
About the Author
---
Dr. Myles Munroe (1954-2014) was an international motivational speaker, best-selling author, educator, leadership mentor, and consultant for government and business. Traveling extensively throughout the world, Dr. Munroe addressed critical issues affecting the full range of human, social, and spiritual development. He was a popular author of more than forty books, including The Power of Character in Leadership, The Purpose and Power of Authority, The Principles and Benefits of Change, Becoming a Leader, The Most Important Person on Earth, The Spirit of Leadership, The Principles and Power of Vision, Understanding the Purpose and Power of Prayer, Understanding the Purpose and Power of Woman, and Understanding the Purpose and Power of Men. Dr. Munroe was founder and president of Bahamas Faith Ministries International (BFMI), a multidimensional organization headquartered in Nassau, Bahamas. He was chief executive officer and chairman of the board of the International Third World Leaders Association, president of the International Leadership Training Institute, and the founder and executive producer of a number of radio and television programs aired worldwide.