Frommer's Hawaii (Complete Guide) (Paperback)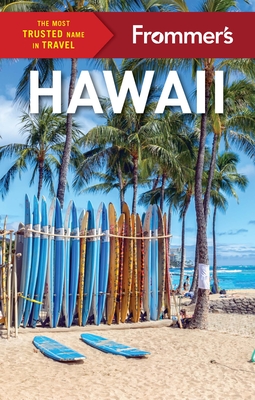 Description
---
Comprehensive and fully updated after the pandemic lockdowns, Frommer's Hawaii covers all the major Hawaiian Islands, and takes you from world-famous beaches to secluded rain-forests to authentic luaus and everywhere in between.
Frommer's only works with expert, seasoned journalists, and on this title both know every inch of the islands and they're not afraid to tell the truth. With their reliable, straight-shooting advice, you'll be snorkeling in palm-fringed lagoons, catching the sunrise over a soaring volcano, relaxing on postcard-ready beaches, and experiencing Hawaii's rich cultural traditions and innovative regional cuisine―everything you need for an unforgettable trip.
Frommer's Hawaii contains:
Color maps and photos, including a handy pullout map.
Detailed itineraries for planning a trip to suit your interests and make the most of your time.
Authentic experiences honoring Hawaii's diverse topography, cultural traditions, food, and customs.
Outdoor adventures for travelers of all ages and skill levels to explore the islands' jungles, beaches, seas and mountains, plus information on the best outfitters to help on some of those excursions.
Reliable, impartial reviews with star ratings of the best restaurants, tours, shops, attractions and hotels―and the ones to avoid. No entity has paid to be in this guide--or any Frommer's guide. We pride ourselves on over six decades of journalistic integrity.
Accurate, up-to-date info on transportation, useful websites, telephone numbers, and other resources you'll need.
Money-saving tips and exact pricing for travelers on any budget―from backpacker to luxury.
Planning advice for getting there, getting around, saving money, and getting the most from your trip.
About Frommer's: There's a reason that Frommer's has been the most trusted name in travel for more than 60 years. Arthur Frommer created the bestselling guide series in 1957 to help American service members fulfill their dreams of travel in Europe. Since then, we have published thousands of titles, becoming a household name by helping millions upon millions of people realize their own dreams of seeing our planet. Travel is easy with Frommer's.
About the Author
---
Jeanne Cooper grew up listening to songs and stories of Hawaii from her mother, who lived in Oahu as a teen. She began writing about Hawaii and its diverse cultures in 2002 for the San Francisco Chronicle and SFGate.com, where her work still regularly appears. Her travel stories have also been published in numerous U.S. newspapers, magazines, and websites, including Localgetaways.com. She lives on Hawaii Island with her triathlete husband, a dog, and two cats. Natalie Schack is a writer and editor lucky enough to be born and raised on the island of Oahu. Her work has appeared in HONOLULU Magazine, Curbed, Hawaii Business Magazine, Green Magazine, Hana Hou!, Flux Magazine, and many more. When she's not penning articles about Hawaii's unique culture, food, art, and business scene, you'll find her rambling through the Koolau Mountains, swimming Oahu's south shores, and enjoying Honolulu city life with her husband and newborn son.