Charles Darwin: Destroyer of Myths (Hardcover)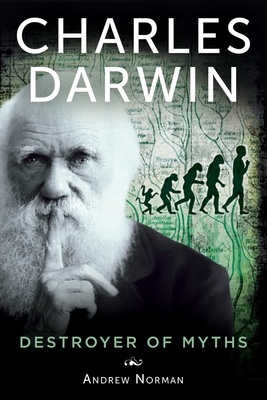 $24.95
Email or call for price
Description
---
Charles Darwin did not deliberately set out to be the "destroyer of mythical beliefs," some of which, in his early days as a young Christian, he had previously espoused. He was a modest man who liked to avoid controversy of any kind, yet paradoxically, he was to be the cause of the greatest controversy in the history of science and religion.

When Darwin embarked on the HMS Beagle in late December 1831, bound for the southern hemisphere, he could not have imagined that the experience would lead him to formulate a theory that would totally revolutionize the way in which we viewed the natural world. He did not come to his conclusions about the origin and evolution of all life on Earth quickly, though, for just as the living organisms to which his theory applied had evolved over millions of years, so his thinking evolved as his own life progressed.

How did this thoughtful, methodical scientist come to have such an impact on his time—and on ours? These questions and more are what Andrew Norman seeks to answer in this biography of the author of The Origin of Species.

Skyhorse Publishing, along with our Arcade, Good Books, Sports Publishing, and Yucca imprints, is proud to publish a broad range of biographies, autobiographies, and memoirs. Our list includes biographies on well-known historical figures like Benjamin Franklin, Nelson Mandela, and Alexander Graham Bell, as well as villains from history, such as Heinrich Himmler, John Wayne Gacy, and O. J. Simpson. We have also published survivor stories of World War II, memoirs about overcoming adversity, first-hand tales of adventure, and much more. While not every title we publish becomes a New York Times bestseller or a national bestseller, we are committed to books on subjects that are sometimes overlooked and to authors whose work might not otherwise find a home.
About the Author
---
Dr. Andrew Norman worked as a general practitioner in Dorset, England, before a spinal injury ended his medical career. He is now an established writer who has produced biographies of such notables as Sir Francis Drake, Sir Arthur Conan Doyle, Thomas Hardy, T. E. Lawrence, Agatha Christie, Jane Austen, and Robert Mugabe. He is also the author of Adolf Hitler: The Final Analysis and of HMS Hood: Pride of the Royal Navy, a study of the loss of the famous battle cruiser. He lives in Dorset, England.