The Weeping Woman: A Novel (Hardcover)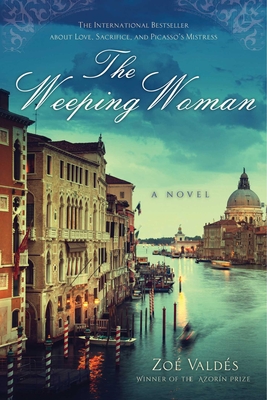 $25.99
Email or call for price
Description
---
Winner of the prestigious Azorín Prize for Fiction, the best-selling novel about love, sacrifice, and Picasso's mistress, Dora Maar.

A writer resembling Zoé Valdés—a Cuban exile living in Paris with her husband and young daughter—is preparing a novel on the life of Dora Maar, one of the most promising artists in the Surrealist movement until she met Pablo Picasso. The middle-aged Picasso was already the god of the art world's avant-garde. Dora became his lover, muse, and ultimately, his victim. She became The Weeping Woman captured in his famous portrait, the mistress he betrayed with other mistress-muses, and their affair ended with her commitment to an asylum at the hands of Picasso's friends.

The writer's research centers on a mysterious trip to Venice that Dora took fifteen years later, in the company of two young gay men who were admirers of Picasso, including the biographer James Lord. After this episode, Dora cut off contact with the world and secluded herself in her Paris apartment until her death. "After Picasso, God," she would say. What happened in Venice? The more the writer investigates, the more she finds herself implicated in a story of passion taken to the extremes. In The Weeping Woman, prize-winning novelist Zoé Valdés narrates the journey of a woman who would do anything and everything for love.

Skyhorse Publishing, as well as our Arcade, Yucca, and Good Books imprints, are proud to publish a broad range of books for readers interested in fiction—novels, novellas, political and medical thrillers, comedy, satire, historical fiction, romance, erotic and love stories, mystery, classic literature, folklore and mythology, literary classics including Shakespeare, Dumas, Wilde, Cather, and much more. While not every title we publish becomes a New York Times bestseller or a national bestseller, we are committed to books on subjects that are sometimes overlooked and to authors whose work might not otherwise find a home.
About the Author
---
Zoé Valdés was born in Cuba in 1959 and has lived in exile in France since 1995. Once dubbed "the Madonna of Cuban literature," she is the acclaimed author of several novels, including Yocandra in the Paradise of Nada and I Gave You All I Had, both published by Arcade. Besides being awarded the 2013 Azorín Prize for The Weeping Woman, she has won the Planeta Prize and the Premio de Novela Ciudad de Torrevieja. She received the Tres Llaves (Three Keys) to the city of Miami in 2001. She lives in Paris.
Praise For…
---
"The Weeping Woman interweaves present and past with intelligence and humor . . . Many of the leading Parisian avant-gardists—Guillaume Apollinaire, Leonor Fini, Juan Gris, Max Jacob, Wifredo Lam, André Lhote, Kiki de Montparnasse, Man Ray—are conjured with fidelity and charm." —The New York Times Book Review

"If you're looking for a book that portrays flaws, anger, human suffering, exile, trauma, sex, and survival—pick up Valdes's book. She brings Dora into the light, and reveals the debilitating power so often afforded to men to crush and break women, and how women prevail."—Review: Literature and Arts of the Americas

"We are steeped in the history, drama, and even mundaneness of the Surrealist era, with a colorful cast of characters that includes Man Ray, Paul Éluard, and the master himself, Picasso. . . . Valdés reveals Maar to be more than just Picasso's model for his portrait The Weeping Woman but an inspiring artist in her own right." —Booklist

"Zoé Valdés rescues Dora Maar from Picasso's clutches." —ABC

"The Weeping Woman is a book about 'someone who separates herself from her work to dedicate herself to genius.'" —El País

"Zoé Valdés is a very important Cuban writer who lives in exile in France. She is very well known in the Spanish-speaking community for the quality of her work and for her courageous fight against Cuban dictatorship in particular and, in general, her criticism of all authoritarian and totalitarian regimes, and for her permanent defense of human rights and journalists and writers who are persecuted all over the world."—Mario Vargas Llosa, winner of the Nobel Prize in Literature and the Miguel de Cervantes Prize

"The Weeping Woman interweaves present and past with intelligence and humor . . . Many of the leading Parisian avant-gardists—Guillaume Apollinaire, Leonor Fini, Juan Gris, Max Jacob, Wifredo Lam, André Lhote, Kiki de Montparnasse, Man Ray—are conjured with fidelity and charm." —The New York Times Book Review

"If you're looking for a book that portrays flaws, anger, human suffering, exile, trauma, sex, and survival—pick up Valdes's book. She brings Dora into the light, and reveals the debilitating power so often afforded to men to crush and break women, and how women prevail."—Review: Literature and Arts of the Americas

"We are steeped in the history, drama, and even mundaneness of the Surrealist era, with a colorful cast of characters that includes Man Ray, Paul Éluard, and the master himself, Picasso. . . . Valdés reveals Maar to be more than just Picasso's model for his portrait The Weeping Woman but an inspiring artist in her own right." —Booklist

"Zoé Valdés rescues Dora Maar from Picasso's clutches." —ABC

"The Weeping Woman is a book about 'someone who separates herself from her work to dedicate herself to genius.'" —El País

"Zoé Valdés is a very important Cuban writer who lives in exile in France. She is very well known in the Spanish-speaking community for the quality of her work and for her courageous fight against Cuban dictatorship in particular and, in general, her criticism of all authoritarian and totalitarian regimes, and for her permanent defense of human rights and journalists and writers who are persecuted all over the world."—Mario Vargas Llosa, winner of the Nobel Prize in Literature and the Miguel de Cervantes Prize