Gentle Nutrition: A Non-Diet Approach to Healthy Eating (Paperback)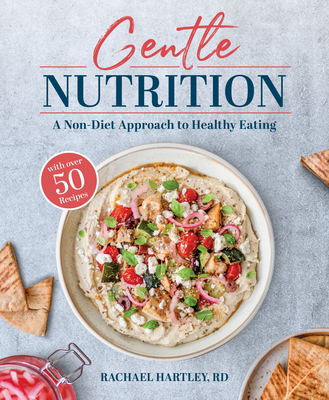 $26.95

Usually Ships in 1-5 Days
Description
---
Intuitive eating is a non-diet approach to healthy eating that focuses on unlearning diet culture's toxic messaging so you can build a healthier relationship with food and your body and focus on health- promoting behaviors as opposed to weight loss. There is a common perception that intuitive eating approaches are also anti-nutrition, but that's simply not the case. In this book, registered dietitian Rachael Hartley looks at the role of gentle nutrition in intuitive eating. She explores why diets don't work—and make you eat less healthfully—why weight doesn't equal health, and how to approach nutrition in a flexible way, with the goal of promoting well-being, not reaching for an arbitrary number on the scale.

Gentle Nutrition: A Non-Diet Approach to Healthy Eating focuses on the big picture rather than getting wrapped up in minor details that can make nutrition seem confusing or overwhelming. Hartley makes it practical by offering science-based, straightforward strategies for building healthy habits. In Gentle Nutrition, she explains how to plan satisfying meals and snacks that nourish the body throughout the day while honoring the need to find pleasure in food. The book includes more than 50 nutritious and delicious recipes for breakfasts, main dishes, snacks, and desserts.

There are many people who don't want to diet, but do want to better understand how to take care of their bodies with food. This approachable guide brings to light how nutrition fits into the context of intuitive eating. When we leave diet culture behind and remove the assumption that weight equals health, we can focus on truly honoring our health and well-being.
About the Author
---
Rachael Hartley, RD, LD, is a dietitian and nutrition therapist who really, really, really loves food. She promotes a non-diet approach by focusing on nutrition rooted in nourishment, not deprivation and restriction, to help people live a happier and healthier life. As a certified intuitive eating counselor, she is fiercely passionate about helping others ditch the diet rules and rediscover the joy of eating. With a compassionate and empathetic approach, her goal is to help others redefine health and discover their own path to food peace.

In 2014, Rachael launched her virtual and in-person private practice as a place to focus on non-diet nutrition and wellness. She specializes in intuitive eating, disordered eating and eating disorders, PCOS, and IBS. On her blog, The Joy of Eating, Rachael shares nutritious and delicious recipes that show how all foods fit. She is a nationally recognized dietitian and public speaker. Rachael regularly contributes to many media outlets as an expert source. She is also active in her local and national dietetics' associations and was the recipient of the South Carolina Young Dietitian of the Year Award.
Praise For…
---
"Aside from laying a strong foundation for what intuitive eating is, Gentle Nutrition provides a practical framework that helps readers feel confident about their food choices. You'll have the information, resources, and recipes to help you figure out what health looks like on your own terms. A must-read."
— Wendy Lopez, MS, RD



"Gentle Nutrition is an incredible resource for anyone learning to nourish themselves as they break away from diet culture. Accessible, thorough, and empowering, it's truly an all-encompassing guide."
— Haley Goodrich, RD, LDN, CEDRD-S

"Gentle Nutrition addresses the principle of intuitive eating that is spoken of the least: the intentional consideration of nutrition in making food choices. Regardless of where you are on your intuitive eating journey, this book will enhance your experience of navigating the process."
— Anna Sweeney, MS, RD, LDN, CEDRD-S

"Finally, an honest-to-goodness evidenced-based nutrition book that I can recommend to clients, family, and friends! Rachael teaches readers how to embrace nutrition and care for our whole selves without succumbing to the siren call of diet culture. Gentle Nutrition is a must-read for anyone looking to improve their health and reclaim their relationship to food."
— Marci Evans, MS, CEDRD-S, LDN

"Rachael has written the book the health and wellness space has desperately needed for years. An approachable mix of solid science, compelling stories, and practical tips, Gentle Nutrition is a giant breath of fresh air for every person who feels exhausted and confused by healthy eating."
— Robyn Nohling, FNP-BC, RD, RDN

"It's the first time I've seen a book so clearly and succinctly capture what it can mean—and look like—to redefine the idea of 'health' for ourselves. This book is an important addition to the intuitive eating space—and your bookshelf."
— Alissa Rumsey, MS, RD