Typewriter: The History, the Machines, the Writers (Hardcover)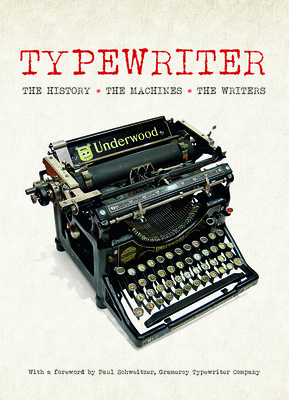 $12.95

Usually Ships in 1-5 Days
Description
---
Personal computers may have replaced the typewriter in most homes and offices, but the venerable writing machine is currently staging a comeback. From portable models that hipsters are snapping up in Urban Outfitters to Tom Hanks's bestselling app that recreates the manual experience on a tablet, the typewriter has never been so hot. This celebration of the typewriter covers what a platen knob is, why QUERTY won out over other arrangements of keys, which authors loved (or loathed) their typewriters, and much more.
A gift book with yellowed paper and typewriter fonts for a cool vintage look
Timeline of the typewriter features key models
Foreword by Paul Schweitzer of Gramercy Typewriter Co.
About the Author
---
After studying History at Corpus Christi College, Oxford and Journalism at Indiana University, Tony Allan worked for the British Broadcasting Company and as a magazine editor before turning to book publishing. He worked at Time-Life Books in London and Alexandria, Va., and served as editor and writer on many multi-volume book series including the 24-volume Time-Life History of the World. Paul Schweitzer is the owner of the famous Gramercy Typewriter Company located on lower 5th Avenue in New York City. He has lovingly restored thousands of typewriters over the years. Paul's shop has served as a mecca for thousands of typewriter lovers and aficionados worldwide.