Dawn of the New Everything: Encounters with Reality and Virtual Reality (Hardcover)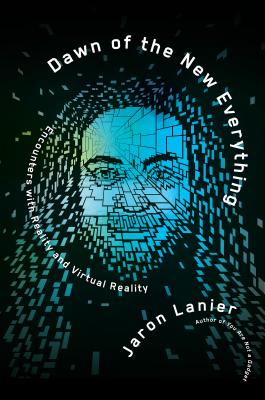 Description
---
Named one of the best books of 2017 by The Economist, The Wall Street Journal, & Vox

The father of virtual reality explains its dazzling possibilities by reflecting on his own lifelong relationship with technology

Bridging the gap between tech mania and the experience of being inside the human body, Dawn of the New Everything is a look at what it means to be human at a moment of unprecedented technological possibility.

Through a fascinating look back over his life in technology, Jaron Lanier, an interdisciplinary scientist and father of the term "virtual reality," exposes VR's ability to illuminate and amplify our understanding of our species, and gives readers a new perspective on how the brain and body connect to the world. An inventive blend of autobiography, science writing, philosophy and advice, this book tells the wild story of his personal and professional life as a scientist, from his childhood in the UFO territory of New Mexico, to the loss of his mother, the founding of the first start-up, and finally becoming a world-renowned technological guru.

Understanding virtual reality as being both a scientific and cultural adventure, Lanier demonstrates it to be a humanistic setting for technology. While his previous books offered a more critical view of social media and other manifestations of technology, in this book he argues that virtual reality can actually make our lives richer and fuller.
About the Author
---
Jaron Lanier is a scientist, musician, and writer best known for his work in virtual reality and his advocacy of humanism and sustainable economics in a digital context. His 1980s start-up VPL Research created the first commercial VR products and introduced avatars, multi-person virtual world experiences, and prototypes of major VR applications such as surgical simulation. His books Who Owns the Future? and You Are Not a Gadget were international bestsellers, and Dawn of the New Everything was named a 2017 best book of the year by The Wall Street Journal, The Economist, and Vox.
Praise For…
---
A Wall Street Journal Business Leaders' Favorite Book of 2017
A The Economist Best Book of 2017
A Vox Best Book of 2017

"A highly eccentric memoir that traces the author's quest for VR back to its roots, not as some sort of geeky engineering challenge but as a feeling he had as a child of being overwhelmed by the magic of the universe."
—The Wall Street Journal

"Evocative . . . vivid and often interesting . . . Nowadays most people with knowledge to write convincingly about cybertechnology are either industry participants or enthusiasts. So Lanier's intelligible grievances with social media, data management, and artificial intelligence are not only insightful but also increasingly rare . . . Whether one shares Lanier's optimism about virtual reality or his sense of proportion about artificial intelligence, one should appreciate his determination to go against current trends and discuss these issues in human terms."
—TheHumanist.com

"Intimate and idiosyncratic . . . quirky and fascinating . . . Lanier's vivid and creative imagination is a distinct character in this book . . . His vision is humanistic, and he insists that the most important goal of developing virtual reality is human connection."
—Cathy O'Neil, The New York Times Book Review

"Deeply personal . . . compelling: a poetic and humanistic view of technology . . . His style is wonderfully discursive, reflecting his wide range of interests and experiences."
—Emily Parker, The Washington Post

"Dawn of the New Everything spirits us back to a time when a plurality of ideas about what the Internet could be were still in play . . . it pulses with kaleidoscopic insight . . . It also contains some of the more artful, numinous writing you'll find on technology . . . Lanier offers a vision for an enhanced reality for everyone."
—San Francisco Chronicle

"Jaron Lanier is both cheerleader and doomsayer in a highly personal story of virtual reality . . . a studied and nuanced interrogation of VR's potential, as well as a gentle critique of what he sees as a failure of imagination when it comes to the medium's current proponents."
—The Guardian

"Essential reading, not just for VR-watchers but for anyone interested in how society came to be how it is, and what it might yet become."
—The Economist

"A very personal scientific autobiography . . . He emerges as an exceptional and engaging character."
—Nature

"Dawn of the New Everything is part coming-of-age chronicle . . . part swinging Silicon Valley memoir . . . and it's stuffed with enough fantastical soothsaying to fill a Holodeck. Or at least an expansive, occasionally vaporous conversation in avatar-free meatspace."
—Wired

"Trust tech genius Lanier to use an innovative format to deliver an innovative idea. Integrating memoir, science writing, philosophical reflection, and down-to-earth advice, he reveals that virtual reality can clarify how the brain and the body connect to the world, giving us a deeper understanding of what it means to be human . . . Anyone interested in culture today will want to read Dawn of the New Everything."
—Library Journal

"Lanier impresses with his sincerity and insight. This culturally significant title with its compelling personal narrative proves yet again that Lanier is a thinker whose work should be read and contemplated."
—Booklist

"Cleverly crafted . . . brilliant and inspiring."
—Publishers Weekly

"Perhaps surprisingly for a book about the birth of virtual reality, this is a deeply human, highly personal, and beautifully told story."
—Dave Eggers, author of The Circle

"Dawn of the New Everything covers fascinating ideas about technology and the future, but from a very personal place. It's entirely unexpected and disarming to read about these concepts from an unabashedly subjective point of view. Reading this book inspired me to spend more time with my Vive. Not just for entertainment, but because Mr. Lanier has thoroughly convinced me that it's the beginning of an enormous paradigm shift in the very way humans relate and communicate."
—Joseph Gordon-Levitt, actor and director

"The author is an evangelist for the good side of VR, which now offers insights into human perception and cognition that are forcing a radical re-evaluation of who we are. That's definitely cool stuff . . . with lots of solid tech-manual ponderings on phenotropic systems and formulas to boot. A spirited exploration of tech by a devotee who holds out the hope that bright things are just around the corner."
—Kirkus Reviews