Night Shift: A Choose-Your-Own Erotic Fantasy (Paperback)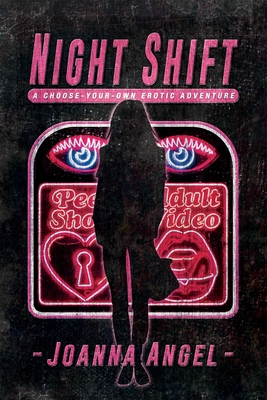 $23.95

Usually Ships in 1-5 Days
Description
---
Taryn Joyner never thought much about sex and never in her wildest dreams imagined that she'd wind up working in an 'adult' store for a living. But that's exactly where she is at 25 years old, starting a night job at Dreamz, Tampa, Florida's premiere porno shop. Surrounded by dildos, handcuffs, and latex clothes, Taryn isn't sure what to make of her new surroundings, not to mention the wacky store owner who parades around in lingerie, but then a familiar face walks into the store and her world begins to change…

Now you can guide Taryn through her "sexploration" as she discovers the amazing things that Dreamz, and its customers, have to offer. Will she have a steamy one-night stand with a lesbian toy seller? Will she learn the finer points of vibrator masturbation? Will she teach a tantric sex class? And most importantly, will she learn to open herself to the full realm of possible sexuality? The choice is yours!
About the Author
---
Joanna Angel is an award-winning adult film star, director, producer, best selling author, and entrepreneur. She was the owner and founder of the venerated adult studio BurningAngel Entertainment from 2002 to 2019, with Pacific Standard magazine calling her "one of the most powerful feminist icons in the adult industry." She's stormed mainstream media outlets with a mission to defy all stereotypes of sex workers by being a strong, educated, insightful, and powerful woman in adult film. While an exotic dancer, she toured and performed at strip clubs around the world. She's been featured in the New York Times, Forbes Magazine, LA Weekly, and on Vice TV and CNBC, to name a few. She was inducted into AVN's Hall of Fame in 2016, the XRCO Hall of Fame in 2017, and in 2018 was crowned a legendary triple threat by NightMoves magazine for her accolades as a director, performer, and exotic dancer.

Her first novel, Night Shift, was featured on Cosmopolitan's list of "36 Legitimately Good Erotic Novels You Must Read," and was regarded by book clubs and reviewers across the nation as an honest, insightful, hilarious, and inclusive work of fiction. Angel broke barriers and paved her own way in the adult industry, and she's now doing the same in the world of erotic literature.
Praise For…
---
"It shouldn't come as a surprise that an innovator like Joanna Angel has excelled at a chose-your-own erotic fantasy novel. Whether you read her book with one hand or two, you're going to learn something about yourself." --Spencer Ackerman, senior national security correspondent, The Daily Beast
— Reviews

"If Daniel Clowes wrote a sex novel, it might turn out something like Night Shift. A delightfully quirky and very hot read rife with Joanna Angel's signature, sweetly crackling wit." --Peter Warren, Adult Video News
— Reviews

"Joanna Angel keeps reinventing herself. She's now added 'writer of interactive fiction' to her already impressive back of tricks. Always sex-positive, always fun, always righteous--Joanna is a fearless woman who always chooses her own adventure." --Gustavo Turner, Los Angeles artist and writer
— Reviews

"Like Joanna herself, Night Shift is fun, sexy, and full of surprises! No matter which adventure you choose, Joanna Angel is guaranteed to take you on an amazing - and sexy - ride!" --Mike Tully, co-host, The Jason Ellis Show
— Reviews

"Overall, I'd highly recommend Night Shift: A Choose-Your-Own Erotic Fantasy by Joanna Angel. This book is going to best appeal to those who love a story and some attachment to the characters - but also want some real, kinky, well-written sex." --Kinky World
— Reviews

"This interactive story is a fun way to enjoy a smorgasbord of sex scenes." --Publishers Weekly
— Reviews

"Night Shift does more than simply facilitate erotic escapism. Joanna Angel is a brilliant writer who explores deep subject matter such as gender and sexual identity, acceptance and rejection, while remaining funny, optimistic and sex-positive. This book will touch you while you touch yourself." --Angela White, award-winning adult performer and director
— Reviews

"Night Shift takes a "come one, come all" approach to erotica. It includes diverse body types, couplings, fetishes, and toys: nothing is off limits. Angel...takes a wonderfully open-minded approach to her material. Drawing from a broad palette of preferences, she has created a book that is truly special and unusual. Night Shift is candy sweet and easy to enjoy erotica in a lively, explorable format. [Five Stars]" --Foreword Reviews
— Reviews

"Joanna Angel should be applauded for her ability to create such a strong work that also manages to be the perfect fun and sexy read." --The Nerdy Girl Express
— Reviews

"I loved Night Shift. I have dissected it and read every single-story arc within it and can honestly say it's my favourite erotica I've read for a long time." --Candysnatch Reviews
— Reviews

"Entertaining with well rounded (women) characters and a trope that will have you reading and re-reading for hours." --Eliza David Writes
— Reviews

"A Choose Your Own Adventure story like Bandersnatch, but with 'sexploration.' Adult film actress, director, and author Joanna Angel dreamed up this witty tale..." —Cosmopolitan
— Cosmopolitan