When Corporations Rule the World (Paperback)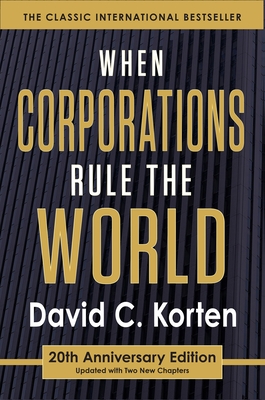 $22.95
Email or call for price
Description
---
Our Choice: Democracy or Corporate Rule

A handful of corporations and financial institutions command an ever-greater concentration of economic and political power in an assault against markets, democracy, and life. It's a "suicide economy," says David Korten, that destroys the very foundations of its own existence.

The bestselling 1995 edition of When Corporations Rule the World helped launch a global resistance against corporate domination. In this twentieth-anniversary edition, Korten shares insights from his personal experience as a participant in the growing movement for a New Economy. A new introduction documents the further concentration of wealth and corporate power since 1995 and explores why our institutions resolutely resist even modest reform. A new conclusion chapter outlines high-leverage opportunities for breakthrough change.
About the Author
---
David C. Korten is a cofounder and board chair of YES! Magazine, a cochair of the New Economy Working Group, the founder and president of the Living Economies Forum, a member of the Club of Rome, a founding board member emeritus of the Business Alliance for Local Living Economies, a former associate of the International Forum on Globalization, and a former Harvard Business School professor.
Praise For…
---
"This is a 'must-read' book—a searing indictment of an unjust international economic order, not by a wild-eyed idealistic left-winger, but by a sober scion of the establishment with impeccable credentials. It left me devastated but also very hopeful. Something can be done to create a more just economic order."
—Archbishop Desmond M. Tutu, Nobel Peace Laureate

"Anyone serious about the systemic crisis we now face ought to read this updated version today. Korten captures the devastating and increasingly threatening dynamics of the corporate-dominated global system and has offered a vibrant, well-written, and important strategy for moving us beyond its destructive economic, social, and ecological logic."
—Gar Alperovitz, author of What Then Must We Do?

"If every corporate leader who believes implicitly that consumerism is the path to happiness (and that rampant development is the road to global prosperity) were to read When Corporations Rule the World with an open mind, that world just might have a chance of becoming a better place for us all."
—Toronto Globe and Mail