The 1868 St. Bernard Parish Massacre: Blood in the Cane Fields (True Crime) (Paperback)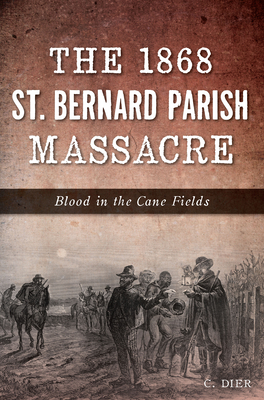 $21.99
Email or call for price
Description
---
Author and historian Chris Dier reveals the horrifying true story behind the St. Bernard Parish Massacre.
As African American men gained the right to vote, white Democrats of St. Bernard Parish feared losing their majority. Armed groups mobilized to suppress these recently emancipated voters in the hopes of regaining a way of life turned upside down by the Civil War and Reconstruction. Days before the tumultuous presidential election of 1868, the parish descended into chaos. Freedpeople were dragged from their homes and murdered in cold blood. Many fled to the cane fields to hide from their attackers. The reported number of those killed varies from 35 to 135. The tragedy was hidden, but implications reverberated throughout the South and lingered for generations.
About the Author
---
Chris Dier was born in New Orleans and currently teaches history at Chalmette High School in St. Bernard Parish, Louisiana. After Hurricane Katrina, Dier was uprooted to Texas, where he finished high school and attended East Texas Baptist University. Dier received a BA in history from ETBU. After completion of his undergraduate degree, he moved back to his hometown and became an educator to follow in the footsteps of his mother. He continued his studies to earn an MA in education from the University of New Orleans and is currently obtaining an MEd in educational administration from UNO. He resides in St. Bernard Parish and has a keen interest in regional history.