Deathstalker Honor (Paperback)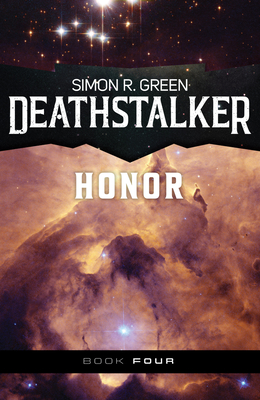 $16.99

Usually Ships in 1-5 Days
Description
---
Official hero of the great rebellion, Owen Deathstalker fought impossible odds to throw down the Empress Lionstone XIV and destroy the corrupt Empire. That should have been enough to be feted, honored, and finally retired. Unfortunately, the new Parliament has some different ideas. There's no rest for a Deathstalker.

As newly appointed Imperial bounty hunter, Owen tracks down the most dangerous war criminals. His current target: Valentine Wolfe, depraved right hand of the Empress and so-called "butcher of Virimonde." Valentine's latest atrocities are both staggering and deeply personal to Owen, but revenge may have to wait.

Humanity faces extermination from enemies new and old, while the fledgling Parliament struggles to maintain control. Worse still, something is alive and beginning to stir in the Darkvoid. The odds are stacked against him again, but Owen Deathstalker will have to face his destiny one more time…or forever damn the future of mankind.

Deathstalker: Honor is the fourth book in New York Times bestselling author Simon R. Green's beloved space opera series.
About the Author
---
Simon R. Green is a New York Times bestselling author whose works include Drinking Midnight Wine, Beyond the Blue Moon, Blue Moon Rising, The Adventures of Hawk & Fisher, and the Deathstalker series. He lives in Bradford-on-Avon in England.