Rafts, Raccons, & Revelations: Growing Up on a Great Lake (Paperback)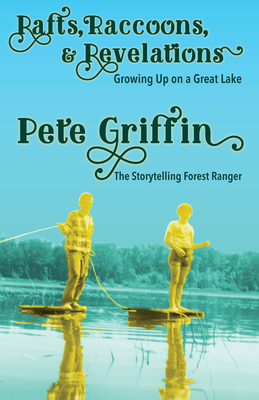 $14.95
Email or call for price
Description
---
Man recounts his boyhood in sparsely populated, near-wilderness area along the USA-Canada border, with an emphasis on encounters with wildlife and natural phenomena and conclusions/observations of human nature and the intersection of civilization as it meets the natural world.
About the Author
---
Pete Griffin was born in a two-room log cabin with no running water just southeast of Cedarville in Michigan's Upper Peninsula--within a hundred yards of the Lake Huron shoreline.  When his dad returned home from the Army in 1953, the small family moved from cabin to cabin in the Eastern U.P. as his Dad followed work opportunities.  Young Pete spent a lot of time exploring in the woods and along the shores of the St. Mary's River and Lake Huron inventing imaginary friends when he had no one to play with. 
 
With few exceptions, Pete's formative years through age 23 were spent in the immediate vicinity of that little corner of Lake Huron.  Water formed an important aspect of his life, whether fishing for trout in the many small creeks that emptied into the big lake or fishing for perch and herring in the protected bays and channels of the Les Cheneaux Islands.
 
Pete says, "My family, my parents, aunts and uncles, and my grandparents did not seem out of the ordinary as I grew up.  But I came to find they all had their own stories, unique stories that all too often I discovered all too late in life."
 
An introvert, he felt most comfortable on his own out in the woods or on the water rather than with others. A career in the woods made sense to him, a job where he could be alone all day and never have to talk to another person.  Griffin enrolled in a wildlife biology program at nearby Lake Superior State College in Sault Ste Marie.  I was graduated in 1974 with a Bachelor of Science in Biology.
 
Following graduation in 1974, he was hired by the US Forest Service on the Huron-Manistee National Forest in Lower Michigan.  In 1987Pete transferred to the Chippewa National Forest in Minnesota with his wife, Kathy, and thjeir two young children.  In 1992, we left the Midwest for Ketchikan, Alaska.  In 1999 Pete was selected as the Juneau District Ranger in Alaska's state capital. 
 
Griffin began Tongass Trails, a weekly five-minute natural history essay on public radio that ran several years in Juneau. In these essays, Pete included his experiences and observations from younger years growing up on the shores of Lake Huron.  It was that personal touch, the short anecdotes included in the recordings that captured the listeners' imaginations and Griffin was awarded the D. Robert HakalaExcellence in Interpreter and Conservation Education Award by the Forest Service in 2006.
 
Griffin retired in June 2010, concluding a 35-year career as wildlife biologist and ranger. 
 
Praise For…
---
"By way of Pete's engaging storytelling, Rafts, Racoons, and Revelations – Growing Up on a Great Lake thoughtfully chronicles experiences gained, and lessons learned while growing up on the shores of northern Lake Huron. Pete has a gift for learning through life experiences and then teaching through the stories that those experiences inspire. Following Griffin as he catches mayflies, starts a first job, and guides a fishing adventure, I found myself immersed in the stories and inspired to apply Pete's values of learning and teaching to my own life." 
 
— Kevin St. Onge, STEM Educator

"Reading Pete Griffin's Rafts, Racoons and Revelations: Growing Up on a Great Lake feels like a bracing dip into the waters he describes so vividly. He brings an adult sensibility and understanding to the mishaps and enthusiasms of his youth. I'm sure glad he survived all his adventures so he could pull them together in this captivating book! Whether helping his mother-in-law land a King Salmon or setting sail with his sister Terrie on a raft built for two, Pete's love for the people and places who formed him shines in every story. It's a heartfelt tribute to hard-working, thoroughly human people living in a wild and wonderful place."
 
 
— Anne Rutherford, Storyteller, Teaching Artist, Author

"In Rafts, Raccoons, and Revelations, self-deprecating naturalist Pete Griffin takes us through his free-range youth with aplomb, respectfully handling sometimes dire situations with humor and humanity.  While young Pete is given chances to make bad decisions, his family, both familial and acquainted, are always close by to guide him through challenges. This book lets us follow Mr. Griffin through life's trek as he navigates the natural and interpersonal world. We may not recognize the situations, but we connect to the lessons. I laughed, almost cried."
 
— Norm Brecke, Storyteller, Teacher, Author

  "Pete Griffin's newest book is full of tales of his growing up in Michigan's Upper Peninsula--love letters to the people who shaped him as a naturalist, biologist, friend, son, husband, and storyteller.  From the lakeshore towns of Cedarville and Hessel to the king salmon-laden waters of Alaska, Griffin throws out his lines and hooks us, reeling us in—sometimes slowly, sometimes swiftly—until we lie flopping at his feet in stunned appreciation and joy.  Secrets are kept and revealed, and the heart is laid open in all its complexity, humor, and humanity.  Take this book down to the dock with you, sit with your feet in the water, and let Pete Griffin instruct you how, as Thoreau said, to go to the wilderness (of trees and water and love) 'as a hungry man to a crust of bread.'"
 
— Martin Achatz, two-time Poet Laureate of the Upper Peninsula