Five Portraits (Xanth Novels #39) (Paperback)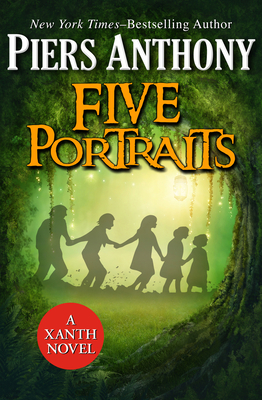 $21.99

Usually Ships in 1-5 Days
Other Books in Series
This is book number 39 in the Xanth Novels series.
Description
---
The magical land of Xanth is in peril in this follow-up to Board Stiff by New York Times-bestselling author Piers Anthony. "It occurs to me that you folk are no ordinary group," the troll said. "We're on a special mission to eliminate the last of the anti-pun virus. We are a bit unusual." Astrid Basilisk-Cockatrice is the daughter of anonymous parents who whiled away a dull minute by generating her on a warm compost pile, then went their own deadly ways, never to see her or each other again. She found herself a soul, but her gaze is fatal and her touch is toxic. That's not so strange in the Land of Xanth, where everyone has a unique magical talent, and charms, curses, and enchanted puzzles lie around every corner. Now, Astrid and her companions are finishing the cleanup of a virus that ravaged the puns of Xanth, and new Quests are already popping up. For instance, Astrid is attempting to fulfill her mission in life, if only she can figure out what that is. And then there's the missing Question from the Good Magician's Book of Answers. Not to mention the small matter of a Demon Wager regarding the impending destruction of Xanth. But it's nothing Astrid and her motley crew of lovely maidens and strapping men can't handle . . . they hope. Piers Anthony delivers another tale set in the bestselling world of Xanth, filled with magic, surprises, adventure, and a few puns. Here's what the author has to say about his new book: "Five Portraits is a kind of sequel to Board Stiff in that it picks up where the other leaves off, with the same characters. Apart from that, it's one of my favorites within the series. There's something about Astrid Basilisk that appeals to me: a very pretty girl whose very glance is deadly, yet she's a nice person whose selfless effort to save five difficult children from future Xanth is thoroughly worthy. I also like the theme of the power of unlikely friendship. Not just Xanth, but Mundania, too, would be better if there were more such friendships.
About the Author
---
Piers Anthony has written dozens of bestselling science fiction and fantasy novels. Perhaps best known for his long-running Xanth series, many of which are New York Times bestsellers, he has also had great success with the Incarnations of Immortality series and the Cluster series, as well as Bio of a Space Tyrant and others. Much more information about Piers Anthony can be found at www.HiPiers.com.