Amber Revolution: How the World Learned to Love Orange Wine (Hardcover)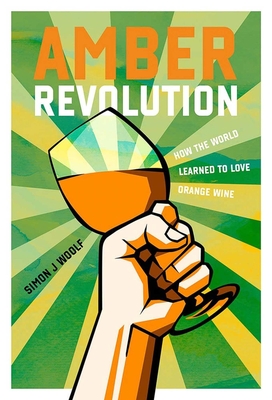 $35.00

Usually Ships in 1-5 Days
Description
---
A must-have volume for all wine lovers and those who love orange wine

Written by renowned orange wine expert and award winning writer Simon J. Woolf, Amber Revolution is the world's first book to tell the full, forgotten story of this ancient wine (white wine made like a red wine) and its modern struggle to gain acceptance. It is a tale of lost identity, the fight for survival, and pioneering winemakers—from the Caucasus to the Adriatic.

White grapes are left in contact with their skins for days, weeks or months during fermentation, creating stunning complexity, unusual aromas and intense flavors. The extended skin contact gives these wines bold amber, russet, or orange tints. The technique is ancient, but the hype is new and fast growing.

This book includes profiles of 180 of the best producers from 20 countries worldwide and is crammed full of all the information you need to find the best orange wines worldwide together with tips for how to buy, enjoy, food-match and age them.

Beautifully illustrated with over 150 specially commissioned photos, Amber Revolution is an essential reference work for any wine lover, sommelier, retailer or producer who loves orange wine.
About the Author
---
Simon J. Woolf is a wine writer and award-winning author of Amber Revolution: How the World Learned to Love Orange Wine, winner of the Roederer Wine Book of the Year Award 2019 and selected New York Times Best Wine Book of 2018, Forbes magazine Notable Wine Book of 2018, and Star Tribune Great Wine Book 2018. He specializes in writing about the developing natural wine niche, including organic and biodynamic winemaking. He is the founder and editor of The Morning Claret, and writes for the international wine press including Decanter magazine, Wine Business International, and Noble Rot. Simon recently authored The Wine Lover's Bucket List: 1,000 Amazing Adventures in Pursuit of Wine, an inspirational compendium of ideas for global wine travel.

Ryan Opaz is an American, based in Porto, Portugal, who has been writing about and photographing the wines of Portugal and Spain for the past 15 years. Founder of the award winning wine blog Catavino.net and CEO of Catavino Tours, today he spends his days guiding travelers to the hidden culinary and vinous treasures of Portugal. Ryan was the photographer for Porto: Stories from Portugal's Historic Bolhão Market, a book which celebrates the culinary history of Northern Portugal in words and pictures.
Praise For…
---
"Great read for wine lovers... [An] approachable deep dive into one of wine's most fascinating and controversial realms.

Essential reading ' Amber Revolution is the first book dedicated to the topic of orange wine and it is fitting that Woolf is the one to write it ' Woolf weaves stories and anecdotes throughout the book in a personal and conversational manner, making this intimate and enjoyable reading that is hard to resist. The colorful and vibrant photography of Ryan Opaz will also help the reader to fall in love with the producers and wine regions ' Woolf describes the main varieties used, the winemaking process and the main styles of orange wines without any pretense or pomp ' Orange wines are demystified by Amber Revolution, but more importantly they are given a face: in the stories of the producers, both old and new, who keep giving us wine drinkers those revolutionary wine tasting moments.

"Wine expert and 'drinks writer' Woolf revels in the history and mystery of orange wines—white wines made like red wines, with the skins and sometimes the stems macerated for days, weeks, or months. So named because of their various light amber to deep russet hues, and sometimes called skin-contact wines, orange wines have been around for millennia. They are fermented in buried earthen vessels called qvevri in Georgia, perfected by Italian and Slovenian vintners, and touted by oenophiles worldwide who are on the lookout for new drinking experiences. Orange wines have been steadily gaining popularity in wine circles, and Woolf makes a good case for them to be considered a fourth category along with red, white, and rosé. In a congenial yet knowledgeable manner, he leads readers through the thickets of its history and lore, profiling vintners who have pushed orange wines into the spotlight. Their stories are often stirring, especially from winemakers from former Soviet countries such as Slovenia and Georgia who survived successive regimes, regulations, and occasional repatriations to make their wines. VERDICT This book will pique the palates of curious wine enthusiasts. Great-looking graphics and an extensive guide to 180 producers in 20 countries increases its value.
— Liz French, Library Journal

"An absorbing book ' Magnificent photography ' Excellent story '
— Eric Asimov, The New York Times

"Woolf's obsession with publicizing the goodness of the uniquely colored orange wine led to a newsletter, a burgeoning career as a well-respected wine journalist, and this [book] ' Orange wine is skin-macerated white wine, made with the grape skins (and, sometimes, stems) included and fermented underground in vessels called qvervie or amphora. Since the twentieth century, European wine makers, primarily in Slovenia and Italy's bordering Friuli region, have excelled in producing this unusual beverage, halted occasionally by wars and different political regimes. Woolf goes deep into the wine's history, interviews at length the founders of several wineries, including Gravner and Radikon, and noses around the actual manufacturing process. He exploits every possible topic for a sidebar, from misconceptions to food matching, in his desire to educate—and educate he does. Only an actual tasting could pique readers' curiosity more about the new-old wine.

"Concurrent with the fashion for amber wines, Simon Woolf's highly readable book explores the history and production of the wines in their spiritual homes: Slovenia, Friuli and Georgia ' Amber Revolution is wonderfully illustrated with photography by Ryan Opaz, which goes a long way in aiding the story because in many cases—the rural conditions in which some of the wines are made and low-tech methods—seeing really is believing.

"Great Wine Books of 2018: The topic is indubitably au courant—even if the practice of crafting these wines goes back centuries. Orange wine is made by leaving white grapes in contact with their skins (which often are more amber than white) for extended periods. The result is, ideally, a more complex, intense wine. Several elements enrich this work: the sagas of the almost 200 people in 20 countries partaking of this practice, the clarity of Woolf's writing and the fabulous photos '
— Star Tribune

"The 'make white like red' approach is the world's oldest wine-making tradition, but it went out of fashion, and was nearly forgotten until its recent resurgence at wineries in the Caucasus and around the Adriatic. In Amber Revolution: How the World Learned to Love Orange Wine, Simon J. Woolf tells the fascinating tale of this ancient wine, and also profiles nearly two hundred amber-wine producers around the world.

Woolf writes with quiet modesty, gravity and deep compassion. Yet he is comfortable with poking fun at himself and is unpretentiously witty. He is, in his own words, obsessed with orange wine, but he doesn't write with the navel-gazing self-indulgence of the obsessed. We often talk about wines tasting as clear and pure as a mountain stream. That description came to mind several times during this book: this is how Simon Woolf writes. You want to dip your mind in his words. There is no excess, yet he writes with great strength. His content is robust, his style has lift. This an extraordinary story, compellingly told, and I would plead with anyone who drinks wine to read it. Even if you (think you) don't like orange wine, please read it.
— JancisRobinson.com

Timely and very readable
— Hugh Johnson

In Amber Revolution, Woolf is at his best, combining personal narrative with historical research and a handy reference guide, while debunking the myths surrounding orange wines.
— Suzanne Mustacich, Wine Spectator

Fascinating, deftly written... Will tell you everything you need to know about this long-hidden tradition.
— Andrew Jefford, Decanter, World of Fine Wine

Nobody knows more about orange wine and its fascinating history than Simon Woolf, and nobody writes better about it.
— Felicity Carter, editor, Meininger's Wine Business International

Witty, precise and well written with Simon Woolf's unique and signature style, this book will definitely become the ultimate reference for orange wines.
— Jose Vouillamoz, Wine Grapes

"[A]n excellent book and a great resource."
— The New York Times