Wanda the Brave (Hardcover)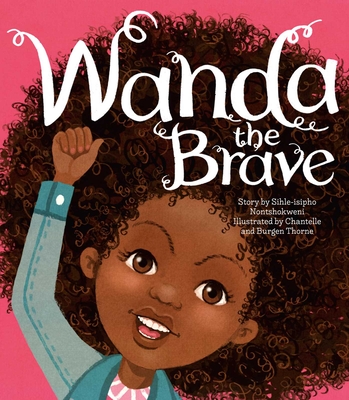 $18.95

Usually Ships in 1-5 Days
Description
---
Meet Wanda, with her glorious head of hair. Written and illustrated by the South African team who brought you the award-winning book Wanda.

Today, Wanda is visiting the hair salon where she'll use all the hair secrets Makhulu taught her. But Aunty Ada wants her to straighten her hair with a white chemical. Wanda and her new friend Nkiruka come up with a plan and both girls stand strong and brave in the face of this big challenge.

Bold and zesty, Wanda the Brave is a celebration of girl power, and a reminder that courage and friendship is a mighty force!
About the Author
---
Sihle Nontshokweni is a PhD candidate at KU Leuven, South Africa. Her research is focused on the successes and failures of school desegregation in post-apartheid South Africa. She has a deep interest in how racialized contexts affect identity and aspirations. Sihle is an avid reader and is passionate about creating positive content through YouTube and her personal blog sihlesapplecrunch.com. She is the co-author of Wanda, also published by Crocodile Books.

Chantelle and Burgen Thorne are internationally published illustrators with over 20 years' experience in educational publishing. Avid bookworms themselves, they take great delight in the visual storytelling of picture books, art and text working together, every word and every image adding to the reader's experience. They also illustrated Wanda by Sihle Nontshokweni & Mathabo Tlali.
Praise For…
---
"Sometimes kids must speak out until adults listen … Whether a mirror or window for readers, this culturally rich story exemplifies the importance of self-advocacy … This brightly colored picture book, dominated by pinks and purples, showcases the beauty of brown skin and natural Black hair, as well as the versatility of hair, and spotlights beauty practices common throughout the African diaspora."
— Kirkus, Starred Review

"Nontshokweni turns the familiar story of a Black girl learning to love her hair on its head by featuring a young queen with a healthy pride in her locks."
— Boolist, Starred Review

"An affirmation of Afro hair that speaks to Black girls all over the African diaspora … With a bright color palette of yellow, pink, blue, aqua, and green, this story highlights Wanda's positive female relationships and role models and helps her understand who she is in a broader cultural context. This story also addresses systemic racism rooted in the apartheid system that lingers today in South African schools. A fine addition to the expanding body of picture books about Afro hair."
— Kirkus Reviews, Starred Review of "Wanda"

"Uplifting … Chantelle and Burgen Thorne's striking illustrations capture intimate scenarios in bright colors. A worthy … celebration of Afro-textured crowns that simultaneously exposes how Black children are sometimes penalized for their textured hair. Ages 4–8."
— Publishers Weekly, review of "Wanda"

"Set in South Africa, this affecting story carries themes of bullying, self-confidence, and familial love that extend beyond geographic borders. Detailed illustrations capture the different textures of characters' hair and Wanda's fiercely felt emotions, while the tropical palette of seafoam, mango, and hot pink keeps the tone lifted as Wanda learns to proudly wear her crown."
— Booklist, review of "Wanda"

"[T]his book offers an international perspective on acceptance and celebration of different kinds of beauty that could complement similar titles in all collections … It's hard for eight-year-old Wanda to remember that Mama calls her hair a crown when Sizwe and Thula tease her on the bus and even her teacher demands that she change her 'cloud' to a style that's 'neat and clean.' After another stressful day at school, she arrives home tearful and dejected. Fortunately, her grandmother is there with encouragement and practical help. First, she shows Wanda pictures of glamorous Black women with a variety of hairstyles. Then she uses a special comb and styling techniques on Wanda's hair. Even Sizwe and Thula admit that the results make her look like a queen. Wanda and most of her classmates are Black, but her teacher is shown only in shadow. The colorful illustrations not only depict the story's events but also express Wanda's shifting thoughts and emotions that affect her self-image. The back matter explains 'Intombi mayizithembe'—an African proverb that means, 'A young girl must always remain confident.'"
— School Library Journal, review of "Wanda"