In the Neighborhood (Hardcover)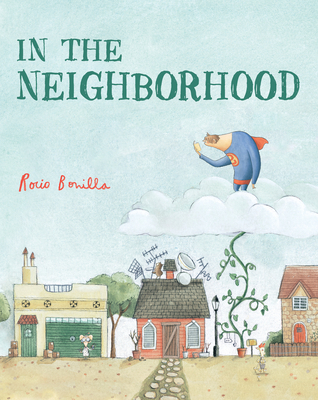 $17.99

Usually Ships in 1-5 Days
Description
---
A silly and sweet picture book about neighbors, community, and making new friends where you least expect it.

A group of neighbors never talks to one another because they've all made assumptions about each other. Camila the chicken's house is too noisy, Mr. Martínez the fox seems so straightlaced, Felipe the mouse is nervous, and Pepe the ogre--well, you know about ogres. But one day, Mrs. Paquita's internet connection goes out. That starts a domino effect of neighbors helping neighbors. And soon everything has changed.










About the Author
---
Rocio Bonilla holds a BFA and worked in advertising for many years before founding her own company, Erase una vez, through which she creates murals for children's rooms. She both wrote and illustrated What Color Is a Kiss? and Little Bro, Big Sis, and wrote and co-illustrated Max and the Superheroes.
Praise For…
---
♦The latest offering from Spanish author-illustrator Bonilla is a heartwarming story about how a neighborhood becomes a community.

Translated into English, the story of mismatched expectations is for readers of all ages—young and young-at-heart—who will delight in the funny and detailed illustrations. The book opens with Camila, a hen, whose 10 chicks make the house a very noisy one. Camila has a preconceived notion about her neighbors and herself; every subsequent character holds some of the same preconceived notions, making them skeptical that any of them would ever want to interact. When Mrs. Paquita's internet connection stops working, a chain reaction opens the neighborhood's doors to bring them all together. Each character has an internal motivation that no one else knows about until they get to know one another. For example, Pepe the ogre is an avid reader who wants to start a book club in the neighborhood, but no one will ever ring his doorbell. The characters are relatable, even though they are anthropomorphized creatures. Bonilla's illustrations are the heart of the story, with neutral, muted colors, but maintaining a playful manner throughout. The renderings are extremely detailed and purposeful, from humorous facial expressions to the shingles on a roof. The illustrations and text could not work without one another; in themselves, they are a community.

VERDICT This could easily be a story hour favorite. Recommended purchase for any children's collection.

—School Library Journal, starred review

♦In a neighborhood of animals that don't know one another, everyone makes assumptions. Camila, chicken mother of ten, has a loud home because of her brood, not because she's hard-of-hearing, as believed by most of her neighbors. Camila assumes Mr. Martínez, the serious, straitlaced fox next door, hates kids, but he actually likes to juggle dressed as a clown. Mr. Martínez assumes the fearsome dragon in the next house over doesn't want to be bothered, but the dragon is actually a mouse using some creative methods to deter the cat neighbor. Similarly, the mouse doesn't guess their cat neighbor is vegan, and Matilda the scientist pig assumes the house next door is empty when Mrs. Paquita, an internet- and Solitaire-obsessed nocturnal owl, lives there. Calamity hits when Mrs. Paquita loses her internet connection, driving her to Matilda, who quickly fixes up the problem. This opens up the door for a domino effect of neighbors asking favors of each other and overcoming their fears of communicating until everyone is united, and the neighborhood can officially be considered a community. This charming Spanish import offers both heart and humor, with a surprising and comical twist on each assumption. Bonilla's art in wavery pencil lines and watercolor provides as much amusement as the content itself, highlighting spreads of a very tired hen pouring overflowing coffee into a mug in her disastrous kitchen, a vegan cat proudly growing an entire farm of vegetables, and Mrs. Paquita eating take-out while still holding tightly to her computer mouse. Stronger readers will have the skills to navigate the text-heavy pages, but newer ones may need a helping hand. Beneath the silly shenanigans in this neighborhood, the message about building community and making connections is a resonant one.

—Bulletin for the Center of Children's Books, starred review



What's the difference between a neighborhood and a community?

"Once upon a time there was a neighborhood like so many others. It had houses, streetlights, trees, and neighbors who had never met one another." Although the neighbors all have different reasons for keeping to themselves, those reasons stem from the same thing: assumptions. Because there's so much noise coming from Camila the chicken's house, everyone assumes she's hard of hearing and has to turn up the TV, but the noise is actually 10 rambunctious children. Camila believes her neighbor Mr. Martínez, the fox, is too serious to enjoy spending time with her and her children. Mr. Martínez, a lawyer who loves to juggle while dressed as a clown, thinks that one of his neighbors, a dragon, is unfriendly. But the "dragon" is a mouse who has his own assumptions, and so on. Finally, a chance meeting of neighbors inspires everyone to reconsider their preconceived notions and gives each in turn the courage to step outside of their own suburban footprint to meet the people around them. When they do, the neighborhood finally becomes a community. The story, translated from Spanish, is fantastic, supported by expressive illustrations that blend fantastical elements into a traditional-looking suburban environment that will be recognized by many young readers. This is a story suited for young children everywhere—as well as a gentle reminder to many adults. 

Poignant and sublime.

—Kirkus Reviews