The Science of the Sacred: Bridging Global Indigenous Medicine Systems and Modern Scientific Principles (Paperback)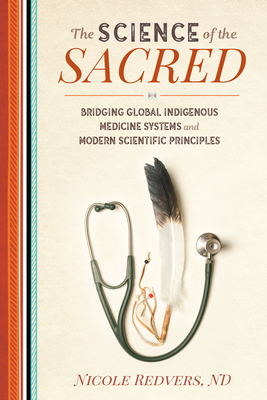 $19.95

Usually Ships in 1-5 Days
Description
---
Indigenous naturopathic doctor Nicole Redvers pairs evidence-based research with traditional healing modalities, addressing modern health problems and medical processes

Modern medical science has finally caught up to what traditional healing systems have known for centuries. Many traditional healing techniques and medicines are often assumed to be archaic, outdated, or unscientific compared to modern Western medicine. Nicole Redvers, a naturopathic physician and member of the Deninu K'ue First Nation, analyzes modern Western medical practices using evidence-informed Indigenous healing practices and traditions from around the world--from sweat lodges and fermented foods to Ayurvedic doshas and meditation. Organized around various sciences, such as physics, genetics, and microbiology, the book explains the connection between traditional medicine and current research around epigenetics and quantum physics, for example, and includes over 600 citations. Redvers, who has traveled and worked with Indigenous groups around the world, shares the knowledge and teachings of health and wellness that have been passed down through the generations, tying this knowledge with current scientific advances. Knowing that the science backs up the traditional practice allows us to have earlier and more specific interventions that integrate age-old techniques with the advances in modern medicine and technology.
About the Author
---
DR. NICOLE REDVERS is the first licensed practicing naturopathic doctor in North America who is Dene (a member of the Deninu K'ue First Nation Band). After growing up in Canada's isolated north, she pursued an advanced Western medical education in the south and has had the privilege of developing relationships with strong elders and medicine people. She has traveled the globe, studying traditional medicine systems in various countries and working with Indigenous patients, helping to bridge the gap between traditional and modern medical systems. In addition, Redvers developed Northern Canada's only integrative medicine clinic from the ground up. She also co-founded and chairs a non-profit group, the Arctic Indigenous Wellness Foundation (AIWF), whose purpose is to revitalize traditional wellness services in the Canadian north and to focus on the preservation of Traditional Medicines. Her foundation was awarded one million dollars as a Laureate of the 2017 Arctic Inspiration Prize to work with homeless people and those most at risk in the northern part of Canada.
Praise For…
---
"Redvers illuminates the common ground that underlies both traditional and conventional healing practices. Each chapter identifies and analyzes the different cultural assumptions that can keep healing practices separate from one another, while the depth of the author's knowledge allows us to see the ways in which these different practices can be rooted in the wisdom of the body. A call for the holistic healing that integrates multiple traditions for healing of mind, body, emotion, and spirit."
—Robin Wall Kimmerer, PhD, author of Braiding Sweetgrass
 
"Drawing on her own unique upbringing and total lived experience—melding wisdom received from her Dene elders of Northern Canada and lessons learned from witnessing illness, poverty, despair, and environmental degradation in various parts of the world—Redvers provides unique insight that only a First Nations person and practicing integrative medicine doctor can bring. The Science of the Sacred is a compass pointing toward a much-needed rebellion in healing. The revolution of the self begins!"
—Alan C. Logan, coauthor of Your Brain on Nature

"Nicole Redvers neatly ties together her cultural Dene roots and stories from other Indigenous cultures in an evidence-informed manner to look at medicine, the health of our planet, and the health of humans as individuals and societies. She poses questions and solutions that deserve exploration and will keep you thinking long after finishing this, her first work."
—Paul Saunders, PhD, ND

"This is a powerful and courageous book of personal and planetary healing. It points directly to the core of all of our problems, where also lie the path to our solutions. Drawing on modern science and the ancient wisdom of the First Nations Elders it makes a resounding call for change, carefully balancing the well-reasoned practicalities with the inspiration and passion needed to achieve these. In a cataclysmic era for human and planetary health a seismic shift is needed—that we may rediscover our purpose, our roots and our sense of self, from which all else flows. Dr Redvers takes us boldly to that frontier, and shows us where we might cross the threshold to a new era of health."
 —Susan Prescott, MD, PhD, president of inVIVO Planetary Health, paediatrician and immunologist, University of Western Australia