Stepping Up: The Bully in the Band (Adventures with Music #4) (Paperback)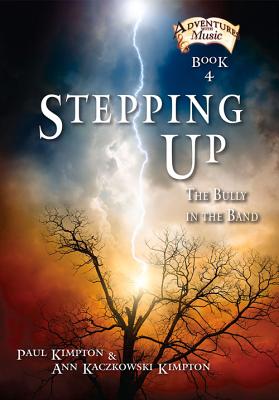 for information about purchasing this book, please contact orders@bookpassage.com
Other Books in Series
This is book number 4 in the Adventures with Music series.
Description
---
The Adventures with Music series gives kids great stories and role models where the heroes are musicians

Set in Indiana as World War II comes to an end, this fourth book in the Adventures with Music series sees hero Dale face his own challenges—including bullying from the first-chair trumpet player.  "Just as quickly as the storm had arrived, it moved away from the fort, and as the sky cleared, so did Dale's mind. He opened the door to the fort, and saw that lightning split his dog Scout's favorite tree down the middle, the two halves forming the letter Y. This is the fork in the road. He had a choice of which fork to take: either face his issues with the first-chair trumpet player or continue to be manipulated and bullied for the rest of his life."
About the Author
---
Paul Kimpton is a former band director with more than 30 years of experience. Ann Kaczkowski Kimpton is a former musician, a teacher, and a high school administrator. They are the authors of the first three books in the Adventures with Music series, which include Starting Early, Dog Tags, and  Summer of Firsts. They live in Downers Grove, Illinois.