Sell Online Like a Creative Genius: A Guide for Artists, Entrepreneurs, Inventors, and Kindred Spirits (Paperback)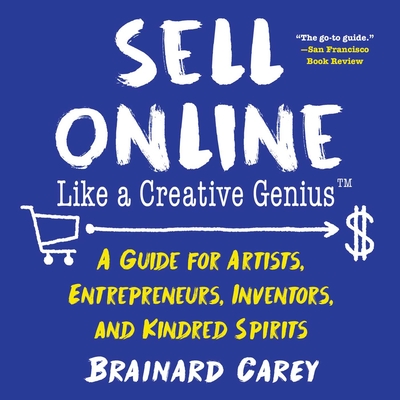 $12.99
Email or call for price
Description
---
How to sell art or anything else online without leaving your home. "The go-to guide for any internet entrepreneur." —San Francisco Book Review
Whether you're selling original artwork, jewelry, or a unique product, this is the book for you. Brainard Carey offers advice with solid examples of how building an online business is something every creative person can pursue.
Carey draws from his extensive experience and interviews with others to show artists and creative people how to sell their work independently and efficiently. Readers will learn how to establish an online store, develop a presence, promote their goods, and reach customers. Chapter topics include:
Designing a website or profile on an existing site
Effective marketing strategies
Creative ways to advertise your product
Building your social media following
Finding new customers
Real examples of artists and entrepreneurs who succeeded in selling their work online
And much more
With chapters divided between practical how-tos and case studies,
Sell Online Like a Creative Genius™
, offers readers both instructive and demonstrative lessons in making their small online business a reality. Everyone can do it with the right tools, and Carey offers an insider's guide to an otherwise daunting process.
About the Author
---
Brainard Carey is an artist, teacher, walker, and pool player. He cofounded the artistic collaborative Praxis with his wife, Delia Carey. As host of the popular Yale University radio show, Lives of the Artists, he has interviewed over 700 artists and creative people to illuminate their careers and work. He is passionate about art education and has written several books for artists to develop their careers, including Making It in the Art World, New Markets for Artists, and The Art World Demystified. He also co-founded Praxis Center for Aesthetics, an online school for professional artists. He lives in New York City.
Praise For…
---
"Where do you start? How do you build an audience? How do you effectively engage potential customers? How do you even find them? These questions and more are deftly covered in Sell Online Like a Creative Genius, a book that should become the go-to guide for any internet entrepreneur. A staggeringly quick read given the wealth of information contained within, this book takes you step-by-step through the process of building your online business. And Carey is a very effective teacher. . . . Carey speaks from experience yet never condescends. He is instructive but always comes across as wanting you to succeed. It's a marvelous tightrope to walk, and Carey does so with ease." —San Francisco Book Review

"Brainard Carey offers practical advice with solid 'real world' examples of how building an online business is something any creative person can pursue. . . . A complete course of instruction, Sell Online Like a Creative Genius is unreservedly recommended." —Midwest book Review