How to Survive and Prosper as an Artist: Selling Yourself without Selling Your Soul (Seventh Edition) (Paperback)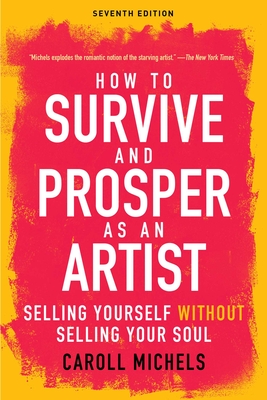 $24.99
Email or call for price
Description
---
"Michels explodes the romantic notion of the starving artist." —The New York Times
Written for fine artists ready to launch their careers as well as experienced artists who wish to relaunch their careers,
How to Survive and Prosper as an Artist, Seventh Edition
, an acclaimed guide, empowers artists to take control of their careers to create a fulfilling life and earn a decent income. In this newly revised edition, Caroll Michels continues to demystify the inner workings of the art world and challenge the status quo. New chapters discuss such topics as:
New business models for artists: Going to the extreme
The use of social media and website development as marketing and publicity tools and what does and doesn't work
The confusion between the "art-buying public" and the "general public" and their differences
New suggestions for establishing and calculating prices for artwork
Neighborhood gentrification and the growing challenges of securing a reasonably priced live/work space
How dealers find artists, how to negotiate with dealers, and how to understand a dealer's agenda
Using her own experiences as an artist as well as the experiences of her clients, Michels crafts a must-read guidebook for anyone interested in embarking upon a successful career as an artist.
About the Author
---
Caroll Michels is a career coach and artist-advocate. She has helped thousands of artists launch and sustain their careers in the United States, Canada, Europe, Asia, and South and Central America. Her artwork has been exhibited in museums, including the Georges Pompidou Museum in Paris, Haus Am Waldsee: Internationale Kunst in Berlin, and the Walker Art Center in Minneapolis, Minnesota. Michels has received numerous grants, including those awarded by the National Endowment for the Arts and the International Fund for the Promotion of Culture/UNESCO. 
Praise For…
---
PRAISE FOR THE SEVENTH EDITION
"Much of Michels' advice for artists applies to professional photographers, particularly her guidance about overcoming fear and negativity and taking personal responsibility for business growth." —Jeff Kent, Professional Photography
 
"Michels has distilled decades of hard-won experience into a book that is loaded with both edification and sanity. If her subject can't be taught, it can nevertheless be learned, and her presentation of it remains definitive" —Franklin Einspruch, Artblog.net
 
"(Caroll Michels') dual expertise stands out in a genre where art is too typically divorced from business savvy, bringing the two together in a guide that should be in every artist's studio." —Donovan's Bookshelf
 
"Michels herself is a long-time artist career coach, and this book does far more than just explain the need to spend money on travel, presentation tools, lawyers, accountants, and career coaches. It describes the narrow view of their own possibilities that many artists have at the outset of their careers." —Daniel Grant, Re:Sculpt, International Sculpture Center
 
"I highly recommend this book as a resource for artists who are either ready to turn their art practice into a viable career in the fine art world or for artists who are already in the trenches and want to arm themselves with relevant information to help them get to the next level." —Peter Harris, Seltzer
 
PRAISE FOR PREVIOUS EDITIONS
"Michels explodes the romantic notion of the starving artist." —The New York Times
 
"Michels is a tough but compassionate advocate, savvy in the ways of the world and the demands on artists in this materialistic society." —The Miami Herald
 
"Michels writes in terse, instructive sentences, and never lets us off the hook." —HuffPost
 
"A 'must have' for any aspiring artist. . ." —Midwest Book Review
 
"The best guide I've found that looks at creating fine art as a career." —Twin Cities PBS
 
"Provides the best overview of political and other aspects of the art world that I have ever come across. . . . It is a bible that every artist should have." —Shannon Wilkinson, president, Cultural Communications, New York
 
"This book should be required reading for every exhibiting artist." —Ellen Rixford, Graphic News
 
"This self-help career book is the pick of the litter." —Donna Marxer, Artists' News
 
"She sounds like Wonder Woman; she is filled with energy, ideas, and sufficient spleen not to be walked on—ever! Her experience is the reader's bonus." —American Artist
 
"Michels provides information on art world politics that artists really need." —Art Papers
 
"One book stood out from the rest . . . and goes beyond the usual information about self-promotion." —The Arts Journal