The Pocket Legal Companion to Patents: A Friendly Guide to Protecting and Profiting from Patents (Paperback)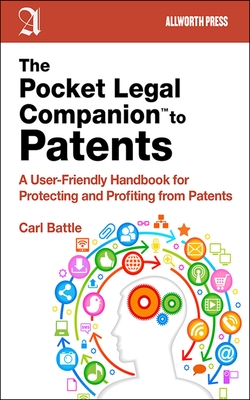 $16.95
Email or call for price
Description
---
Many great ideas fail because the inventors do not take the appropriate steps to protect, promote, and profit from their ideas. This friendly guide will walk you through everything that needs to be done before you can expect to realize financial gain from your invention.
Experienced patent attorney Carl W. Battle provides methods for commercializing your invention, sources of information and assistance, and helpful guidelines for obtaining a US patent on your idea. Specific topics include:
Using patent attorneys and agents 
Dealing with invention brokers and promotion firms
Maintaining confidentiality of your ideas 
Obtaining foreign patent rights
Enforcing your patent against infringement
Licensing opportunities
And much more 
This invaluable handbook also offers information that can assist in the selection of an attorney or patent agent, and will help you to get involved and monitor the patent and marketing process. Finally, easy-to-use forms and step-by-step instructions give you the option of saving money by handling the patenting and commercializing processes without hiring a patent attorney or invention broker.
If you have an idea for an invention that could improve productivity, create jobs, or solve some long-standing problem, then pick up this Pocket Legal Companion™ and learn how to maximize your profits.
About the Author
---
Carl W. Battle is senior vice president and chief patent counsel for GlaxoSmithKline, a global pharmaceutical company. He has served as president of the New Jersey Intellectual Property Law Association and as a director with the American Intellectual Property Law Association Scholarship Fund. He has written several self-help legal and business books, including the bestselling Legal Forms for Everyone (Allworth Press). He lives in Sarasota, Florida.