Blackbirds Singing: Inspiring Black Women's Speeches from the Civil War to the Twenty-First Century (Hardcover)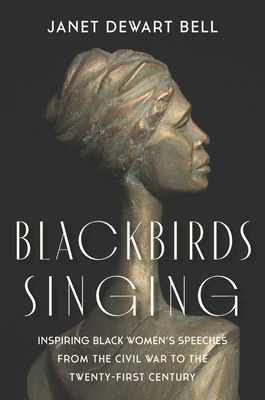 Description
---
An uplifting collection of speeches by African American women, curated by the civil and human rights activist, scholar, and author

"Bell reminds readers that one story is never enough to truly explain a movement."--Shelf Awareness

When Mary Ann Shadd Cary--the first Black woman publisher in North America--declared, "break every yoke . . . let the oppressed go free" to congregants in Chatham, Canada, in 1858, she joined a tradition of African American women speaking for their own liberation. Drawing from a rich archive of political speeches, acclaimed activist and author Janet Dewart Bell explores this tradition in Blackbirds Singing, a soaring new--and gorgeously packaged--collection of African American women's speeches.
Gathering an array of recognized names as well as some new discoveries, Janet Dewart Bell curates public addresses by Black women beginning in the nineteenth century and extending to the twenty-first century. Author of Lighting the Fires of Freedom: African American Women in the Civil Rights Movement, a nominee for the NAACP Image Award, Bell highlights Black women speaking truth to power in service of freedom and justice. From Harriet Tubman to Barbara Lee, Josephine Baker to Barbara Jordan, these magnificent speakers explore ethics, morality, courage, authenticity, and leadership. Bell's substantive introductions provide rich new context for each woman's speech.
With an expansive historical lens, Blackbirds Singing celebrates the tradition of Black women's political speech and labor, allowing the voices and powerful visions of African American women to speak across generations building power for the world.
About the Author
---
Janet Dewart Bell is a social justice activist with a doctorate in leadership and change from Antioch University. She founded the Derrick Bell Lecture on Race in American Society series at the New York University School of Law and is the author of Lighting the Fires of Freedom: African American Women in the Civil Rights Movement and Blackbirds Singing: Inspiring Black Women's Speeches from the Civil War to the Twenty-First Century and the co-editor (with Vincent M. Southerland) of Carving Out a Humanity and Race, Rights, and Redemption (all published by The New Press). An award-winning television and radio producer, she lives in New York City.